You know those plastic tubs that people use to store holiday decorations, old blankets, and clothes in the attic? Well, an animal dealer that supplies small animals to PetSmart, Petco, Pet Supplies Plus, and many other stores uses even smaller containers to house live animals.
A PETA eyewitness documented that thousands of animals were confined to plastic bins stacked in shelving units like filing cabinet drawers at Holmes Farm, a massive animal dealer in Pennsylvania that supplies hamsters, rabbits, gerbils, chinchillas, ferrets, and other small animals to hundreds of pet stores across the eastern U.S.
Based on PETA's evidence, a team of U.S. Department of Agriculture (USDA) officials descended on Holmes Farm, which is now under federal investigation. In May 2016, the USDA's initial findings were released, listing at least 117 violations of 14 different federal laws, including 36 animals in need of veterinary care, decomposing animals in bins with live animals, a free-roaming cat near bins holding guinea pigs, an ammonia stench so strong that it burned federal agents' eyes and noses, and statements by Holmes Farm staff that they had learned to kill unwanted animals "on the internet."
In August 2016, the Douglass Township Police Department charged Holmes Farm manager Clinton "Art" Holmes with 28 counts of cruelty to animals. In March 2017, Holmes pleaded guilty to two of the counts.
PetSmart eventually stopped buying animals from Holmes Farm—but only after failing to act for months, even when federal officials' findings were publicized. Petco initially claimed in January 2016 that it had severed ties with Holmes Farm, before it was notified of PETA's findings by the Associated Press. But for more than a month after Petco's December 2015 visit to Holmes Farm—during which its representatives were never seen looking at the freezer or the filthy cooler in which hundreds of animals were crudely killed—its stores continued to order and receive animals by the hundreds from Holmes Farm, even as the USDA began its inspection.
Trapped in Bins and Torn Apart by Cats
The animals—thousands of whom had already been subjected to a grueling overseas trip in shipping crates—were confined to crowded bins or cages in Holmes Farm's filthy, windowless warehouses. The buildings reeked of urine and feces, and one building's floor was spattered with blood where helpless prey animals had apparently been attacked by cats, who were allowed to roam freely throughout the facility, regularly jumping in and out of the bins. One hamster who had been attacked by a cat was just left to flail and die on the floor.
PETA's eyewitness saw hamsters running in constant circles, which can be a sign of severe stress or illness. Gerbils frantically scratched at bins in which each animal had just 6 square inches of floor space. Some rabbits had less than 1 square foot of "living" space. A manager grabbed chinchillas by their sensitive tails and tossed hamsters a few feet from one bin to another.
Animals were commonly forced to drink from filthy, contaminated water bowls or denied water altogether. PETA's eyewitness discovered hundreds of mice without water, who then drank in a frenzy after the witness provided them with some.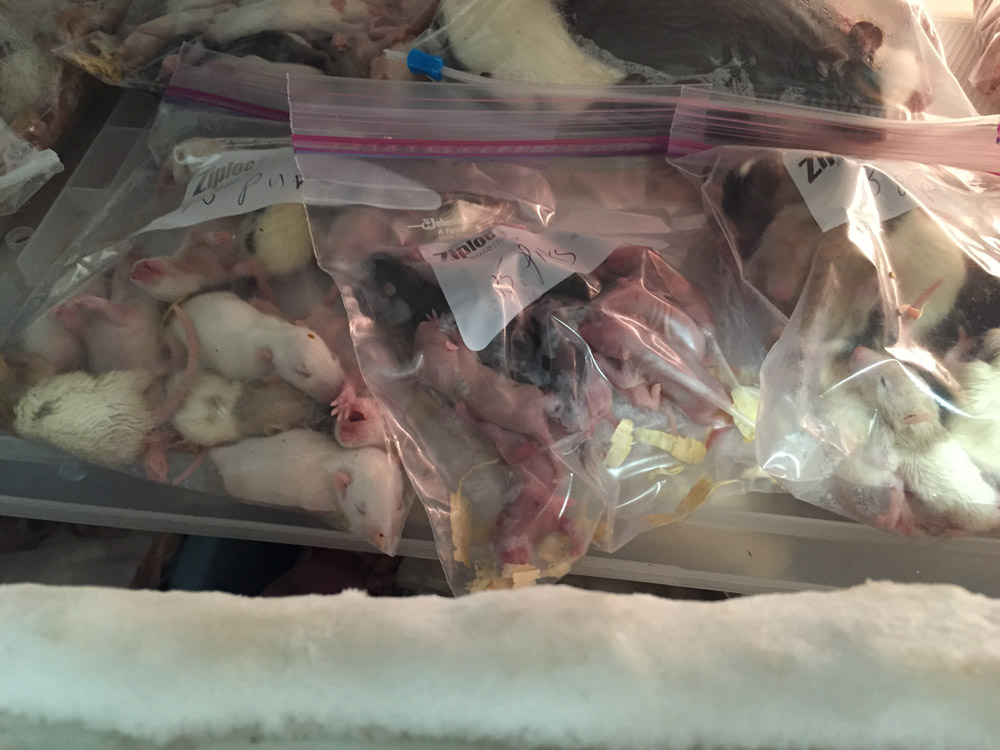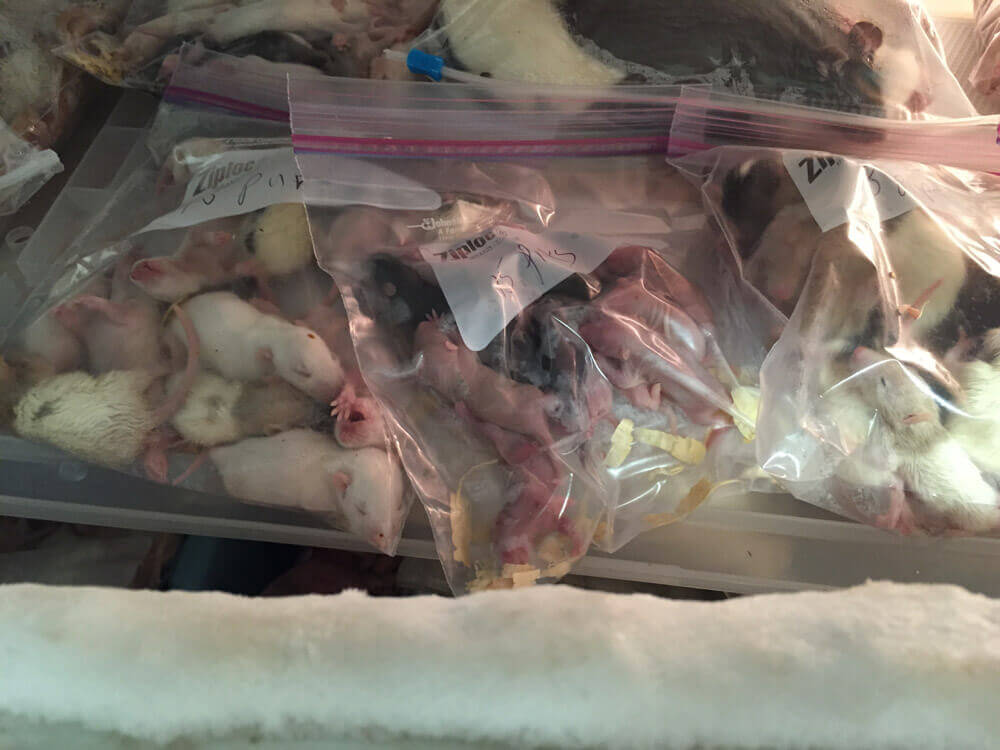 Screaming as They Were Gassed to Death in a Waste-Filled Cooler
PETA's observer never saw any animals receive veterinary care at the facility, despite repeatedly alerting the manager to obviously sick and injured individuals. Instead, workers piled dozens of animals—ranging from rats and gerbils to guinea pigs and even a rabbit—at a time into a feces-smeared cooler and crudely gassed them with carbon dioxide. Their screams could be heard across the room.
Workers did not check the animals for signs of life before dumping their bodies in the trash or wrapping others in plastic bags to sell as "feeders." Some sick or emaciated animals languished for days without care, including rabbits who eventually died in cages. Some rats evidently carried rat-bite fever—a disease that is potentially fatal, is transmissible to humans, and has already led to two lawsuits against Petco.
PETA's eyewitness was able to rescue a rabbit named Leela, who suffered from a likely upper respiratory infection for 10 days without any signs of treatment and whose left eye was sealed shut with discharge. After a veterinary examination and a few days of antibiotic treatment, Leela beat the infection and began running and jumping about in her foster home.
Dying in Agony in a Freezer
Live rats were stuffed into plastic zipper bags or tossed onto plastic lids and put in a freezer, slowly freezing to death even as some frantically tried to claw their way out. Many of these animals were later sold as food for snakes and other carnivorous reptiles. Even after PETA notified Petco that a notice to its suppliers was in order to ensure that American Veterinary Medical Association (AVMA) guidelines were followed, the cruel killings continued. Petco responded that "vendor agreements already require Petco vendors to have written instructions on the euthanasia procedures used at the facility" and that "all vendors are responsible for knowing and being in accordance with AVMA guidelines and all local and state laws regarding euthanasia." Holmes Farm had guidelines posted but knowingly failed to follow them—further proof that big-box stores' "vendor guidelines" are totally meaningless.
During nearly three months at the facility, PETA's observer found hundreds of small animals dead, often in bins in which no water was available.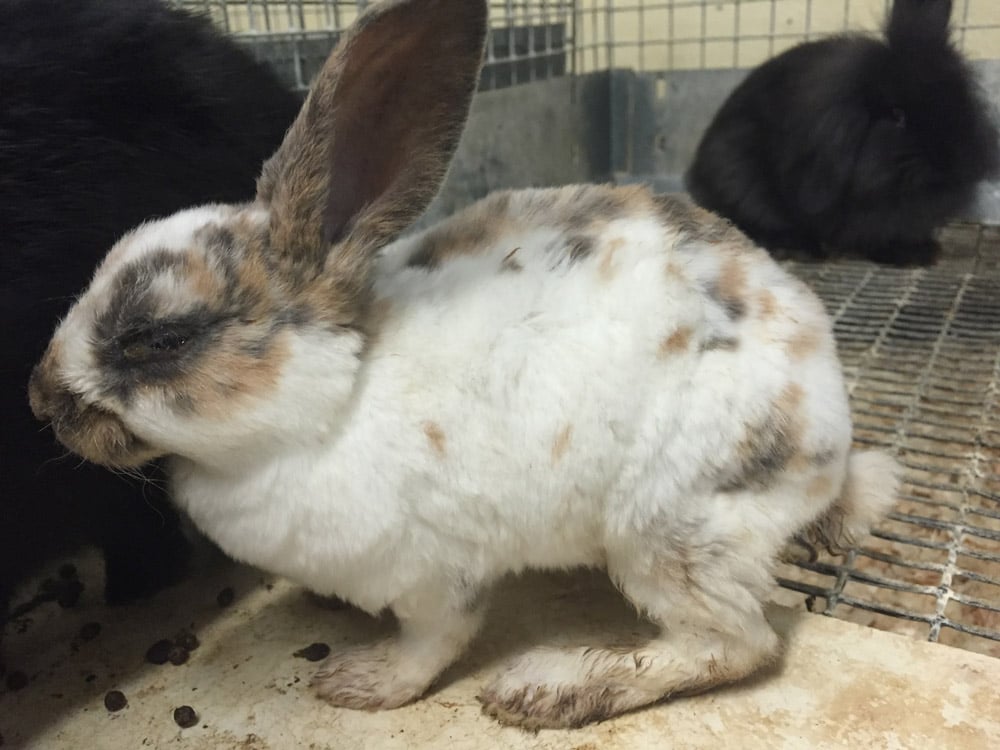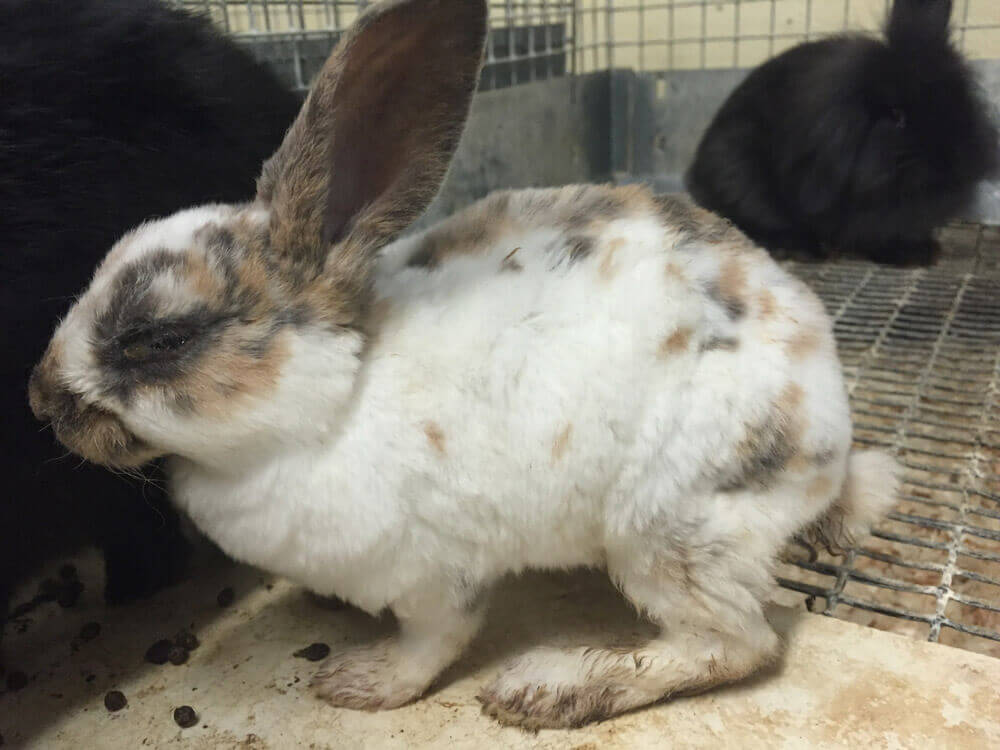 Packed in Plastic, Deprived of Water for Days, and Hauled for Hundreds of Miles
Holmes Farm shipped more than 20,000 guinea pigs, hamsters, and gerbils to big-box and other stores over a period of less than three months. Animals who were being shipped were packed in boxes the day before and left there without water overnight, before being hauled away for grueling, multi-state journeys to pet stores. Mother mice were seen trying to hide their babies as workers took the newborns away to ship them to customers.
When Petco, PetSmart, and other stores returned sick, injured, or unwanted animals, the animals often went for days without water. One rabbit arrived alive at a store, which turned the animal away. The rabbit died en route back to Holmes Farm.
A guinea pig, whom PETA's eyewitness named Elvis, died without treatment after he was returned for having ringworm. Returned animals were never seen being treated for their injuries or illnesses.
You Can Help Stop This Cruelty!
This case is hardly an anomaly: Holmes Farm is the fifth animal dealer with ties to PetSmart and/or Petco that PETA has exposed. Please, pledge never to buy pet supplies from retailers that sell any animals. Let the big-box stores' leaders know that you'll instead buy supplies from businesses that don't sell any animals, such as Target, Walgreens, or online retailers.
If you're planning to add an animal to your family, please visit a local animal shelter or rescue organization—never buy from a store or breeder. Rabbits, guinea pigs, and other small animals are dying for lack of good homes and deserve the same consideration as dogs and cats, whose overpopulation crisis is well-known.