PETA Investigates:
Guests Bitten by Animals During 'Encounters' at Austin Aquarium
Update (December 5, 2022): After Austin Aquarium received back-to-back critical citations from the U.S. Department of Agriculture (USDA)—which led to an official warning for alleged violations of the federal Animal Welfare Act for failing to ensure animal and human safety—PETA submitted a complaint to the Federal Trade Commission requesting that it investigate the facility for unfair business practices, noting that members of the public, including children, have been bitten and injured at the aquarium, which continues to market hands-on encounters with animals as safe, family-friendly entertainment. The critical citations and official warning from the USDA were over two incidents: one in which a lemur bit a 10-year-old's hand during an interaction and another when a kinkajou bit a boy's hand, causing an injury that required medical attention.
Update (October 6, 2022): A just-released report obtained by PETA from the U.S. Department of Agriculture (USDA) reveals that Austin Aquarium received a repeat critical citation after a kinkajou bit a boy's hand during an encounter, requiring medical attention. According to the report, the notorious outfit was cited for violating the federal Animal Welfare Act by failing to exhibit the kinkajou in a way that ensures safety for the animal and the public.
In 2022, a PETA investigator worked undercover at Austin Aquarium in Texas, an indoor petting zoo and seedy strip mall aquarium that encourages people to touch sensitive marine animals and participate in paid "encounters" with lemurs, kinkajous, a sloth, and a capybara—even though these animals would normally avoid humans.
Watch the shocking video below to discover the lies, suffering, and death that PETA uncovered at Austin Aquarium:

During the course of the investigation, PETA learned that Austin Aquarium apparently flouts state reporting requirements for animal bites. Staff who've been bitten by animals have reportedly lied to hospital staff about the type of animal that bit them when seeking treatment, at least in part to avoid formal reports on the source of their injuries. PETA's investigation also documented that Austin Aquarium deprives injured or suffering animals of veterinary care, reportedly to save on costs.
During four harrowing months at Austin Aquarium, PETA's undercover investigator:
Discovered that at least 11 staffers had been bitten (or they described being bitten) by wild animals.
To prevent animal bites from being reported to authorities—which often results in having to quarantine the animals—some workers lied about the species of animal who bit them when seeking medical attention. One manager, who reportedly "got bit by the sloth" and whose "veins turned black," apparently told medical professionals that he "got bit by a stray cat." PETA's investigator was bitten by lemurs and a capybara during the investigation.
Learned that 12 visitors—including one as young as about 7 years old—were bitten by lemurs and a kinkajou in just a two-month period.
The investigator was told never to document an attack in the site's animal care records and never saw attacks recorded by anyone else.
Observed otters in a cramped enclosure exhibiting abnormal behavior indicative of severe psychological distress.
One otter chewed his paw repeatedly, a type of behavior commonly seen in animals who suffer from psychological trauma associated with premature separation from their mothers. Another began throwing her head back erratically, and according to an inspection report from the U.S. Department of Agriculture (USDA), this started after she was forced into more feeding "encounters" with the public. These animals almost never see natural sunlight, and their enclosure is designed for public visibility, not for their welfare needs. Austin Aquarium staff admitted to PETA's investigator that they do not provide the otters with enough enrichment and said that some other animals there were given CBD and/or copaiba oils for their "anxiety" and to help them "cope" with stress.
Was told about one instance in which an employee tried—but failed—to crush a rat caught in a trap with a cinderblock.
Staff also relayed another story in which about 600 anoles (a type of lizard) reportedly deemed surplus or unnecessary by Ammon Covino, who is openly referred to by employees as an owner, were simply released both inside and outside the building without considering that they might face a painful or prolonged death. A worker described using a large rock to kill one anole who was found dying.
Recorded staff members—out of earshot from guests—discussing the incidents described above, plus many others.
One worker confessed to PETA's investigator that "most things" that Austin Aquarium does would displease the USDA, and added, "We break a lot of USDA rules …"
As a result of our findings, PETA has submitted complaints and evidence of apparent violations at Austin Aquarium to several agencies, including the USDA, the Occupational Safety and Health Administration, Texas Parks & Wildlife, and animal control officials in Austin. We're calling on these officials to investigate serious animal neglect and apparent welfare and other types of violations documented by PETA's undercover investigator.
If you were bitten by an animal at Austin Aquarium, PETA urges you come forward to share your story.
We also encourage you to report such incidents to the authorities if you haven't already.
Dangerous 'Encounters' Put Austin Aquarium Visitors in Harm's Way
One Austin Aquarium manager said that animals there bite members of the public "probably … once a week." Another said, "We're … expecting to be sued" over such attacks. Yet the facility doesn't require guests to sign waivers before engaging in its dangerous "encounters." Instead, staffers have just 30 seconds to cover safety rules before taking the public into enclosures. Why?
According to a manager, waivers were eliminated by Ammon Covino because completing them took guests too much time: "[W]e weren't getting as many people in" and "Ammon didn't like that."
Prior to PETA's Investigation:
At least three guests, including a 10-year-old child, were bitten by a lemur during hands-on encounters in a 10-month period from 2018 to 2019—and those were just the attacks reported to authorities. Many other bites undoubtedly went unreported. Each of these incidents resulted in a 30-day quarantine for the lemurs involved because of infectious disease concerns.
How Lemurs Lived—and Died—at Austin Aquarium
Showing signs of psychological distress, lemurs at Austin Aquarium paced back and forth. Three rolled their heads around repeatedly. One ring-tailed lemur named Wally was found caged all alone in early March, unable to see or interact with any other members of his species. He'd evidently been kept that way since at least October 2021. Workers recounted to PETA's investigator that another lemur reportedly hanged to death after becoming tangled in string attached to a loose balloon.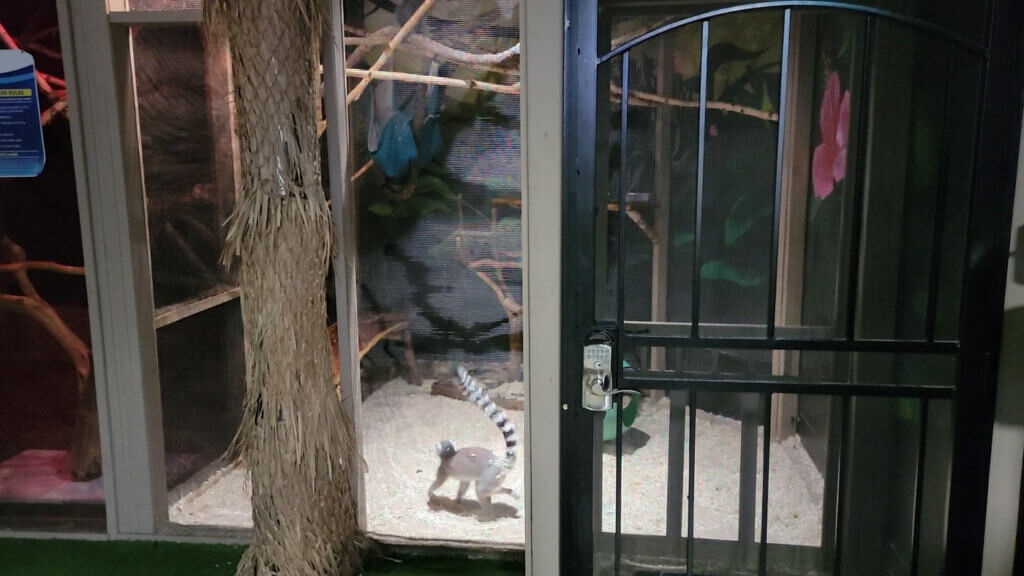 PETA's investigator learned that Austin Aquarium shortened the duration of its ring-tailed lemur encounters after one of the ring-tailed lemurs apparently began regularly jumping at and grabbing people.
Austin Aquarium staff admitted that they knew that allowing lemurs to jump on guests' shoulders and heads without any restraint during paid encounters was in violation of the federal Animal Welfare Act. A manager forbade the staff from offering ring-tailed lemur encounters during the USDA's last routine visit in order to make sure the inspector wouldn't witness any "incidents."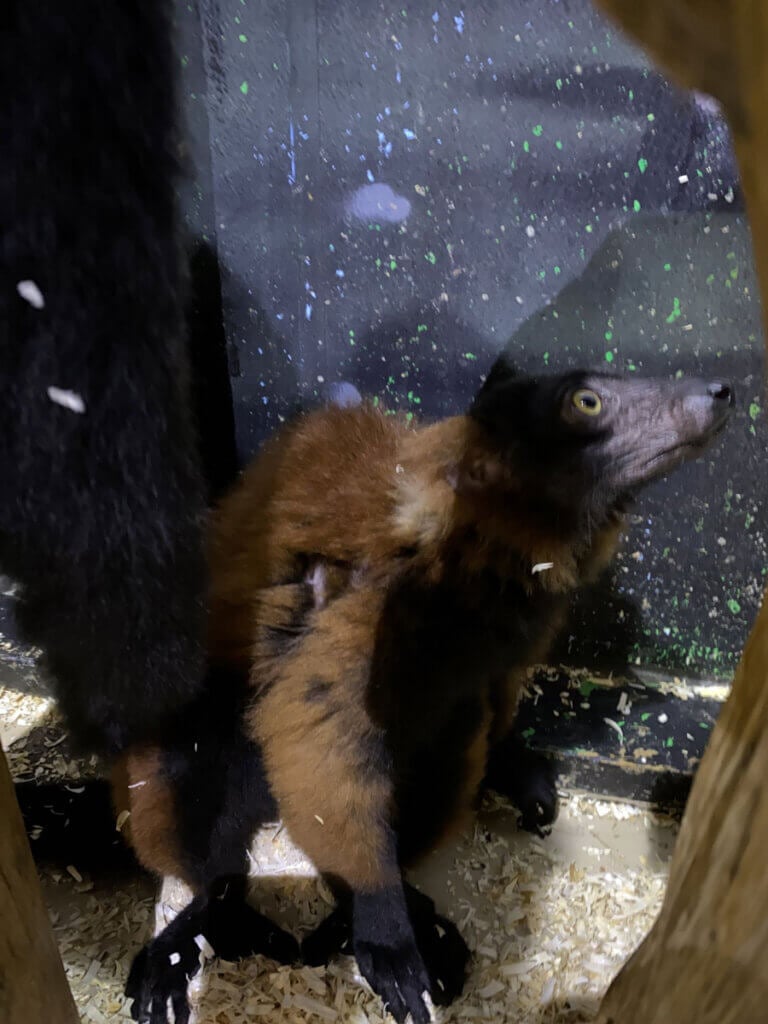 The investigator also noted that one day, when a red ruffed lemur escaped an exhibit and was at large for three hours, the staff didn't alert the visitors to the potential danger.
Reptiles Are Neglected, 'Go Missing,' and Die at Austin Aquarium
Austin Aquarium staffers told PETA's investigator that venomous vine snakes "go missing all the time"—with dozens having escaped since March—and that some had been found on a bird enclosure, at a nearby daycare center, or dead in the facility. Bush snakes were also found loose, including on top of a parakeet enclosure.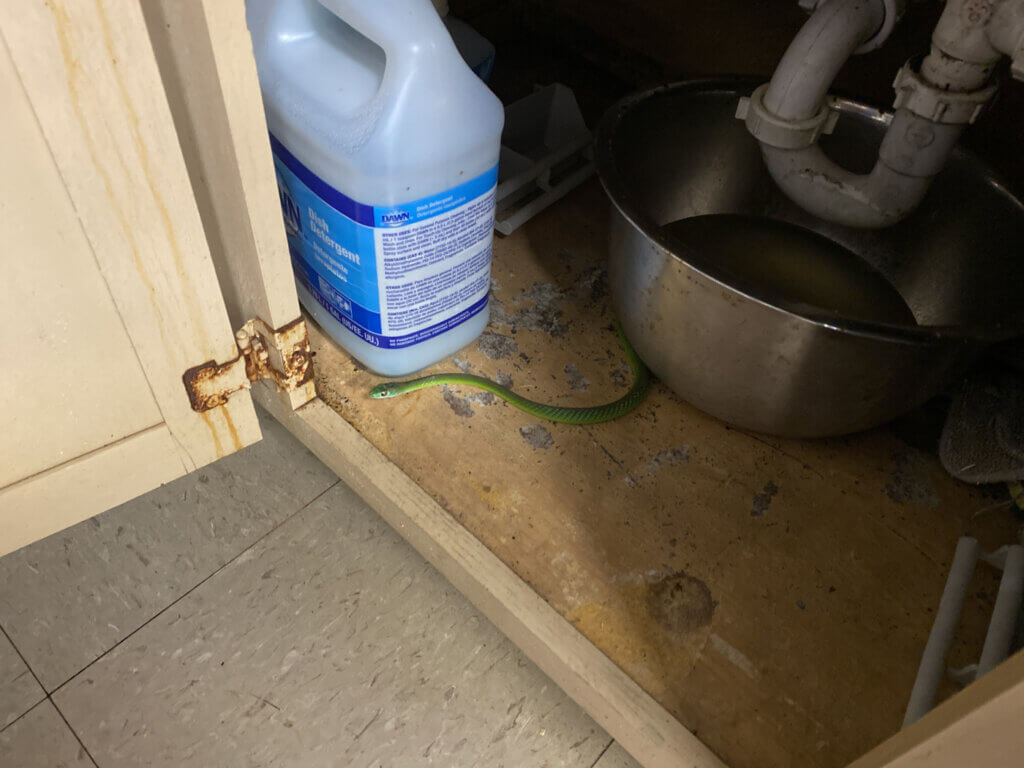 Louise, an iguana, was denied veterinary care for a suspected broken leg, reportedly because the facility's owners deemed an anticipated $200 X-ray "too expensive"—despite having grossed an estimated $60,000 in one day in mid-March, according to a worker.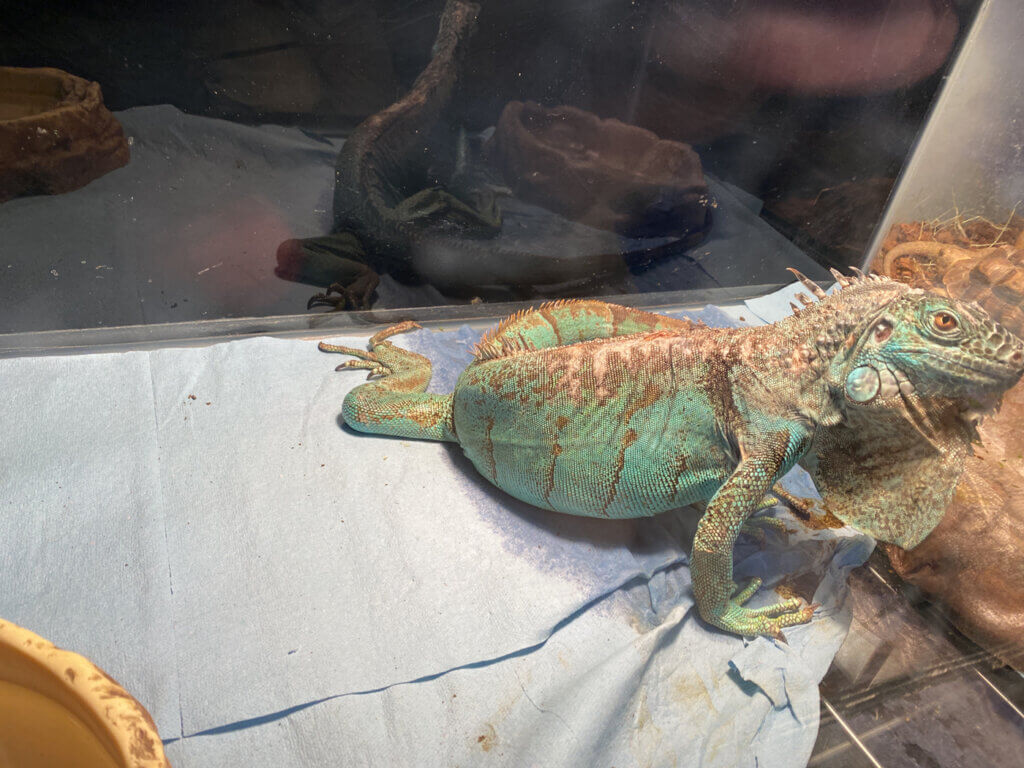 A manager refused to take an iguana named Igor, who appeared to be suffering, to the veterinarian to be euthanized, stating that Igor was "just" a reptile.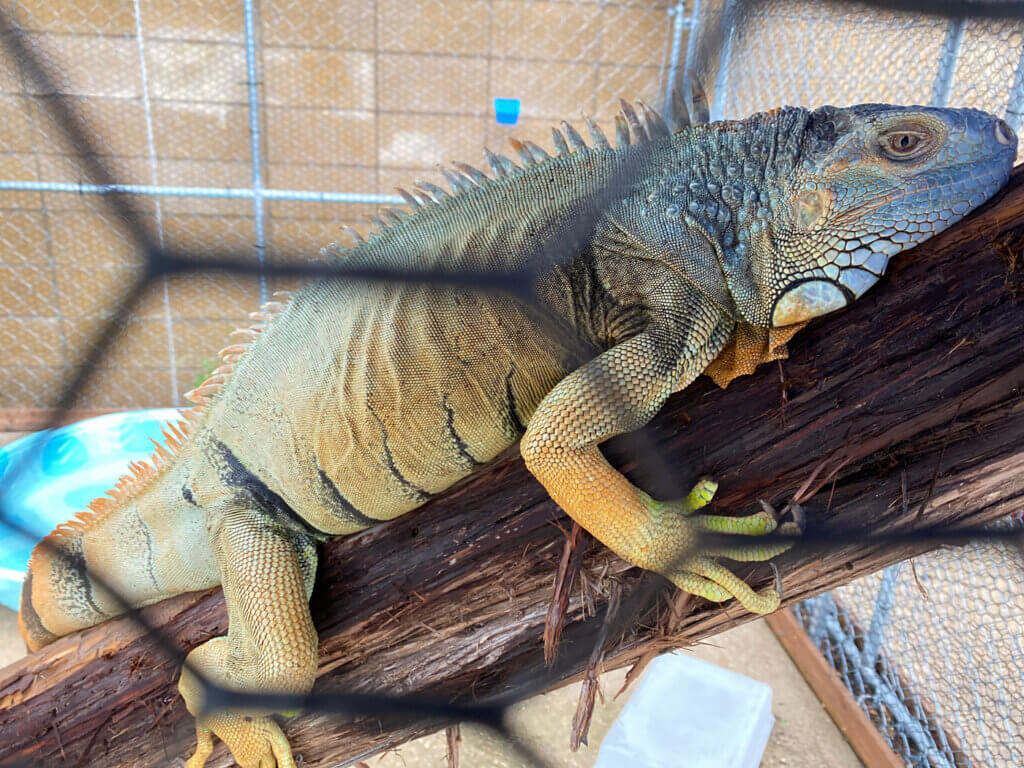 Instead, he was put in a cage outside and left to die. It took three days.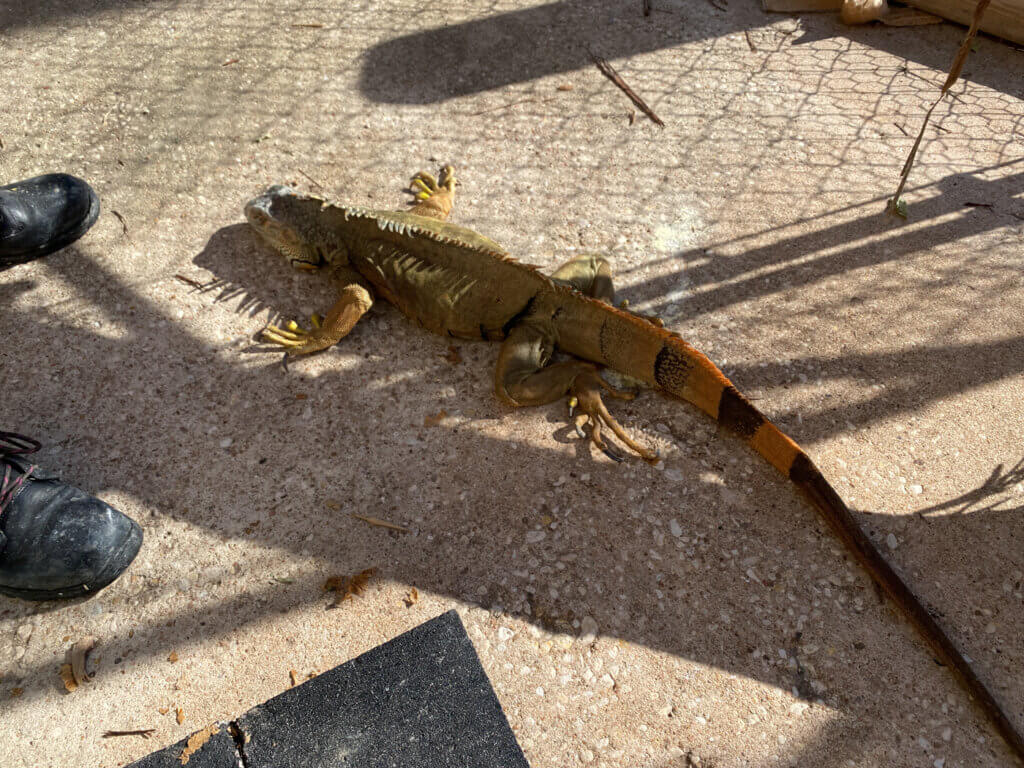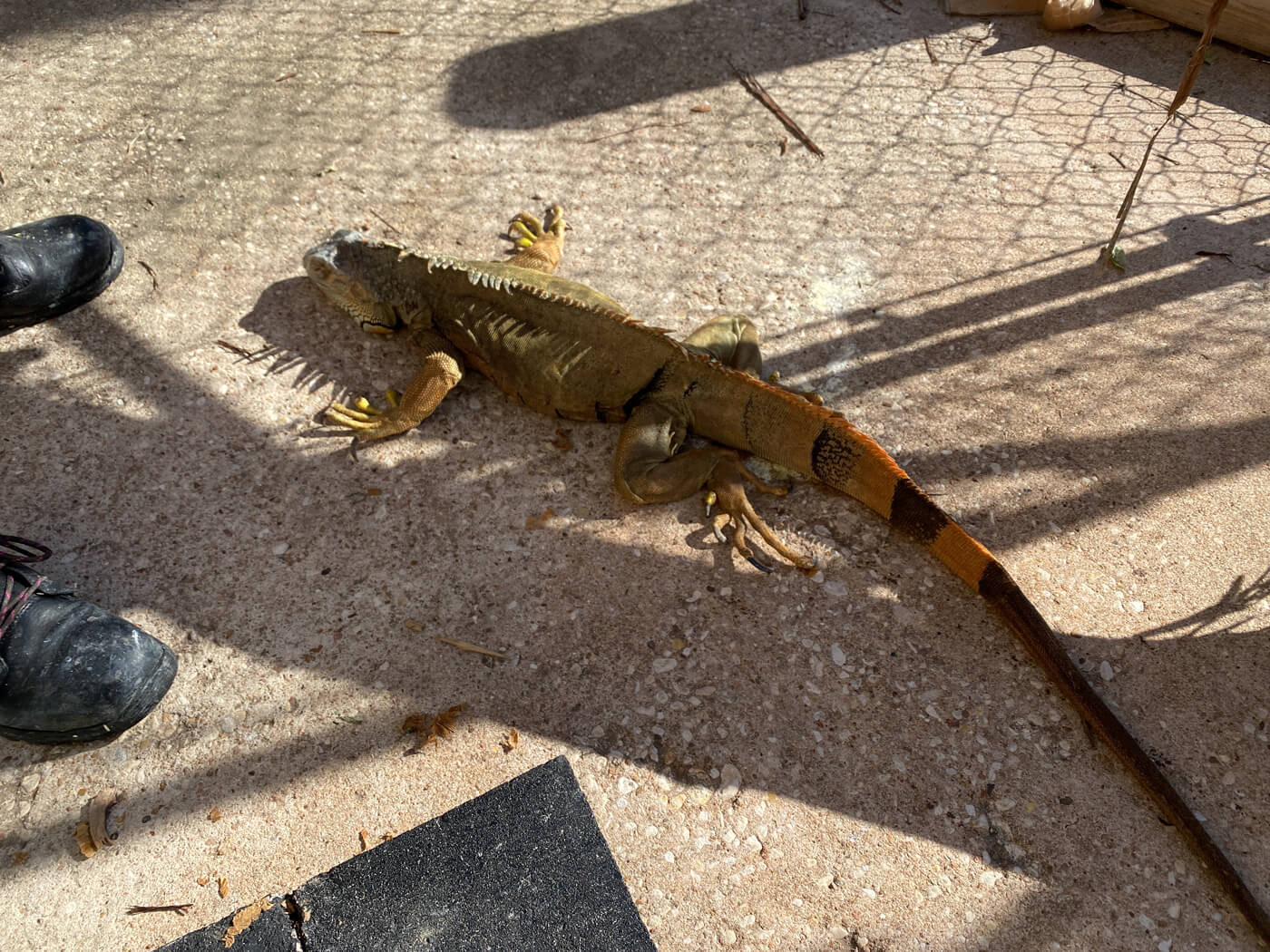 After a gecko apparently incurred a dislocated forelimb and broken clavicle, staff waited 15 days to take the animal to a veterinary clinic, where they reportedly rejected recommended X-rays.
Austin Aquarium's Operator Has Faced Legal Troubles
Austin Aquarium is legally owned by Crysty Covino but openly directed and operated by her husband, convicted wildlife trafficker Ammon Covino. Ammon's brother, Vince Covino, cofounded the facility with Ammon. The two brothers have been involved in the opening of a number of aquariums nationwide over the last decade, many of which share similar sordid histories of animal welfare incidents and USDA citations.
Since the first of the Covino family's operations opened, hundreds of animals have died either at the facilities or during transport, countless whistleblower reports of neglect have surfaced, and both brothers have faced legal troubles.
The fact that Ammon's name is not on any of Austin Aquarium's official business filings is apparently a thinly veiled attempt to circumvent the law: Because of Ammon's previous conviction, he cannot hold a USDA license.
Ammon Covino was sentenced in federal court to more than a year in prison and two years of probation after pleading guilty to conspiracy to commit illegal wildlife trafficking in 2013.
One of the conditions of his probation was a prohibition on participating in any activity involving the exhibition, purchase, or sale of fish or wildlife. In 2014, the USDA denied a license to Austin Aquarium because of Ammon's involvement and only issued it a license when he was removed from records as a "managing member"—a move which was superficial in nature and not a reflection of his actual involvement in the operations. He was sent back to prison twice in 2016 after violating his parole—once because he was found working at Austin Aquarium.
Yet according to Austin Aquarium staff, Ammon has dictated husbandry practices there and has created new exhibits and changed others. He brought 30 people into the facility for encounters one afternoon, and—according to staff—has been involved in disregarding the rules on encounter participants' minimum age, as well as delaying repairs to a faulty air conditioner. In addition to openly flouting the law by his participation in this facility's operations, he is also evidently involved in the running of two sister aquariums in the state, San Antonio Aquarium and Houston Interactive Aquarium.
PETA's investigator learned that Vince Covino—whose own sleazy petting zoo and aquarium chain business, SeaQuest, has racked up a laundry list of USDA citations over animal welfare issues and public safety concerns as well as state and local permit violations and fines—apparently sends animals to Austin Aquarium.
A worker stated that staff tell the public that animals come from "USDA-regulated breeders" but admitted that "we get a good chunk of them from Ammon's brother's business. And they don't come to us in very good health," including a capybara who was very thin, "looked awful," and had broken teeth.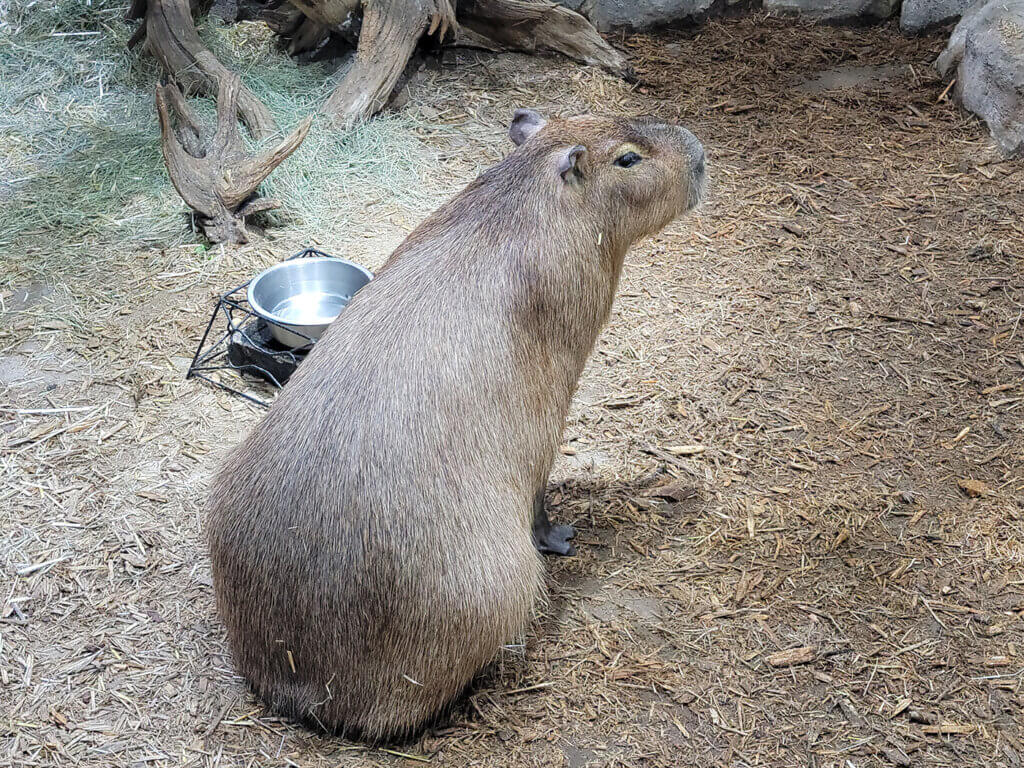 Previously, the USDA has cited Austin Aquarium for failing to establish adequate barriers between animals and visitors, failing to consult an attending veterinarian regarding the cause of a health problem prior to treating it, failing to adequately clean the pool inside the capybara enclosure, and failing to maintain enclosures in good repair.
Take Action for Animals at Austin Aquarium
Please send polite comments to:
Crysty & Ammon Covino
512-222-5586
[email protected]
Urge the following promoters to reconsider their relationship with Austin Aquarium moving forward.
Please send polite comments to:
Mitch Jones
Co-founder & President, Pogo Pass
[email protected]
Kate Brassington
Co-Founder of The Family Vacation Guide
[email protected]
Addie Gross
Austin Active Kids Blog
[email protected]