What Happens Before and After Camel Rides? Watch the Video to Find Out
PETA Asia has obtained more video footage showing the horrific abuse of camels at Egypt's notorious Birqash Camel Market. Many of these gentle, social animals are sold and exploited for rides and photo ops at sites like the nearby pyramids at Giza and Saqqara. When they're no longer able to give rides or be used as photo props, they will likely end up back at the very same market to be sold for meat.
Watch the video and let the footage speak for itself.
Before reaching this chaotic, noisy, dusty, and frenzied market outside of Cairo, workers jam camels into trucks for a frightening and exhausting trip. Once they arrive, handlers use sticks to hit the animals in the face and on their extremely sensitive testicles. Handlers beat some camels until they're left with bloody, fly-infested wounds that go untreated. Workers tightly bind camels' legs so that they can't escape or even move around freely. PETA Asia's footage shows a truck dragging a camel down the street by his leg.
Camel Abuse in Egypt Isn't New
In 2019, PETA Asia footage showed workers at the same market beating camels on their face and testicles. Many animals had bloody wounds teeming with flies. Investigators confirmed that the camels purchased at the Birqash market can end up at Egypt's top historical sites, such as the Great Pyramid of Giza and Saqqara's ancient burial site, where they're used for rides and photo ops. There's no peace for these animals after a lifetime of exploitation. Once their bodies are too broken down to give rides, they can be returned to the market to be sent to slaughter and then eaten.
Tourists Leave Shocked and Appalled
Travel review sites are filled with comments from travelers denouncing the abuse that they witnessed to both camels and horses:
"I travel all over the world and have witnessed animal abuse but what I saw at the pyramids is by far the worst. If you are planning to go first read up on this, I wish I had done so before. The horses and camels work in deplorable conditions in the heat, no water, no rest, beaten."
"Injured camels, forced to work without proper hydration. Not impressed. We brought this to their attention and the staff ignored us."
"Very bad animal welfare on the camels and horses underneath the blankets they are walking skeletons. Do not ride these poor animals it is animal abuse."
"These poor horses and camels are beat for any reason."
"We didn't ride any camels or horses as after seeing the way they treat them we didn't want to contribute to the abuse, the poor animals are worked into the ground and it's heartbreaking to see."
Government Fails to Make Changes for Camels
After PETA Asia's previous footage led to the arrests of three camel traders, the governor of Giza allegedly installed surveillance cameras, promised to inform traders about taking care of the animals correctly, and pledged to ensure that a fully equipped veterinary unit would be present in the market to care for sick animals. However, this recent footage shows that authorities are clearly failing. The only way to end this abuse is to ban camel rides completely and use animal-free forms of transportation.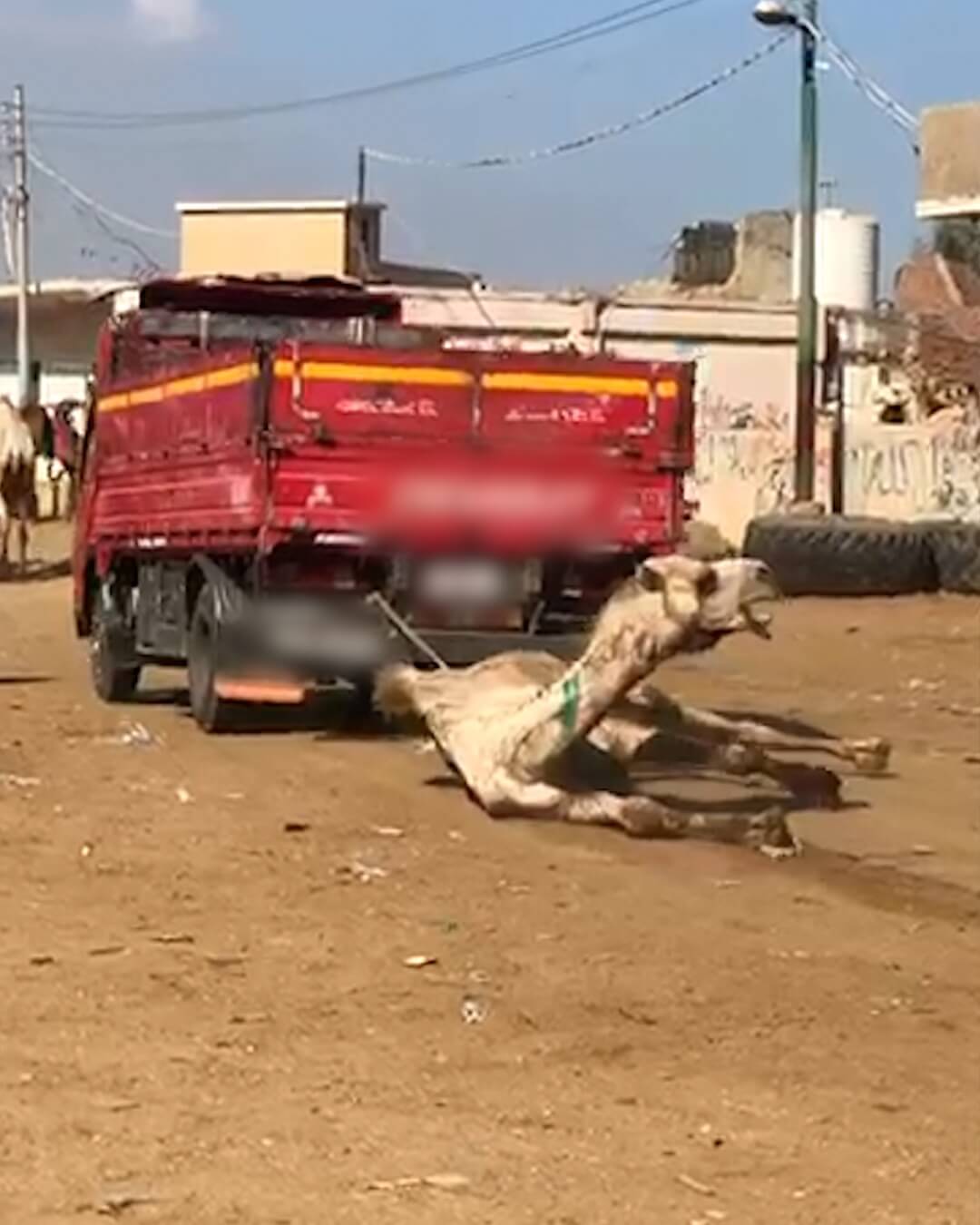 There Are Kinder Ways to Make Money
Several popular tourist sites around the world offer kinder solutions instead of animal rides and forced photo ops, and these compassionate trends continue to grow. In Santorini, Greece, tourists can take a cable car instead of riding a donkey. PETA India proposed an electric chariot design to replace elephant rides at India's Amer Fort. Innovations such as these electric carts, cable cars, and others provide people with a source of income that doesn't exploit animals.
You Can Help End Camel Exploitation
Camels are emotional and caring individuals, they have social structures and language just like humans do, and they deserve respect. Never pay for camel rides or pictures with animals, and speak out if someone asks you to participate in any activity that uses animals. Urge Egypt's minister of tourism and antiquities to ban camel rides and other animal tourism.