Racing Hell:
The Deadly World of Underground Horse Races
Update (April 4, 2023): Progress! The American Veterinary Medical Association and the American Association of Equine Practitioners just announced new policies against unsanctioned horse racing following PETA's video investigation into two Georgia bush tracks.
From June 2021 through April 2022, a team of PETA operatives investigated unregulated Quarter Horse racing in Georgia, primarily at the largest Georgia "bush track," Rancho El Centenario (south of Atlanta). Well over 100 of these tracks operate all over the U.S., from California to Virginia, flying largely under the radar. 
Quarter Horses are the fastest breed at running a quarter-mile or less. These "match races" feature two to six horses competing against each other at breakneck speeds on a straightaway track at distances from 5 to 400 yards. A typical race day involves up to 20 races.
PETA discovered a clandestine underworld of crime and cruelty, where racegoers wager hundreds of thousands of dollars and trainers and jockeys drug, whip, and electroshock horses to try to win at any cost.
The 'Breaking Bad' of Horse Racing:
Meth and Coke
Investigators were appalled to see race teams injecting horses in the neck shortly before races, often on the racetrack itself. Racers experiment with drug cocktails to rev horses up, mask injuries, and kill pain, in hopes of achieving maximum speed.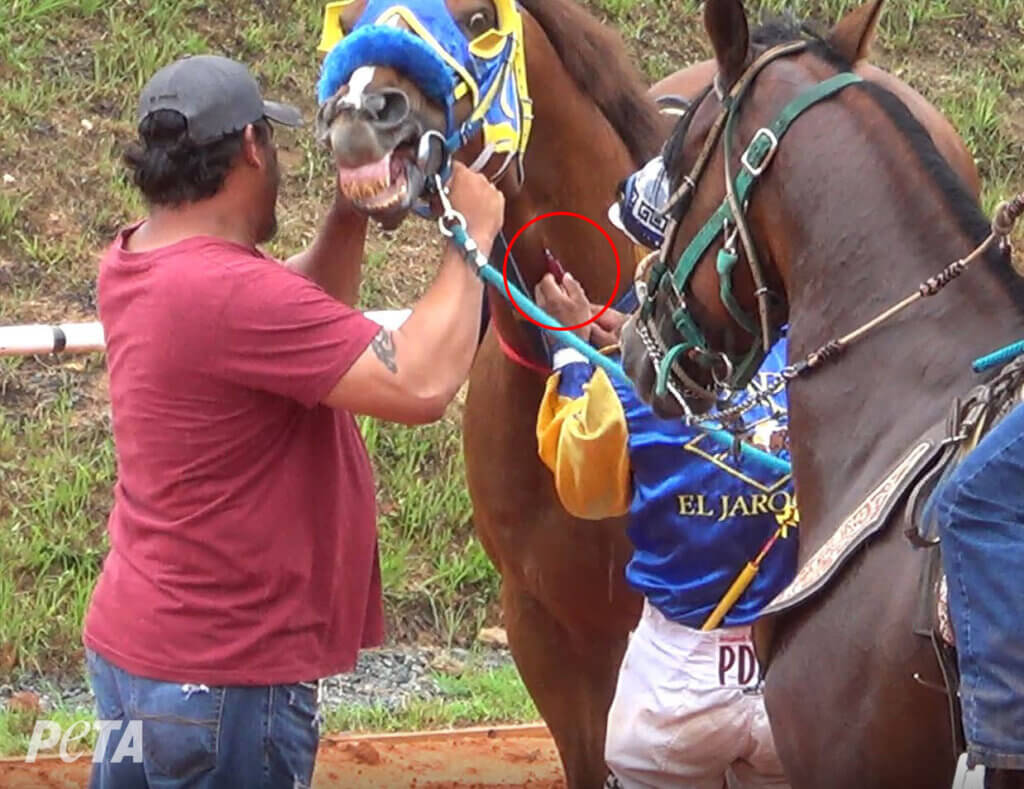 PETA was able to collect 27 syringes and/or needles in total, on six different dates. Testing by a Racing Medication & Testing Consortium–accredited lab revealed that syringes contained cocaine, methamphetamine, methylphenidate (Ritalin), and caffeine, sometimes in combination.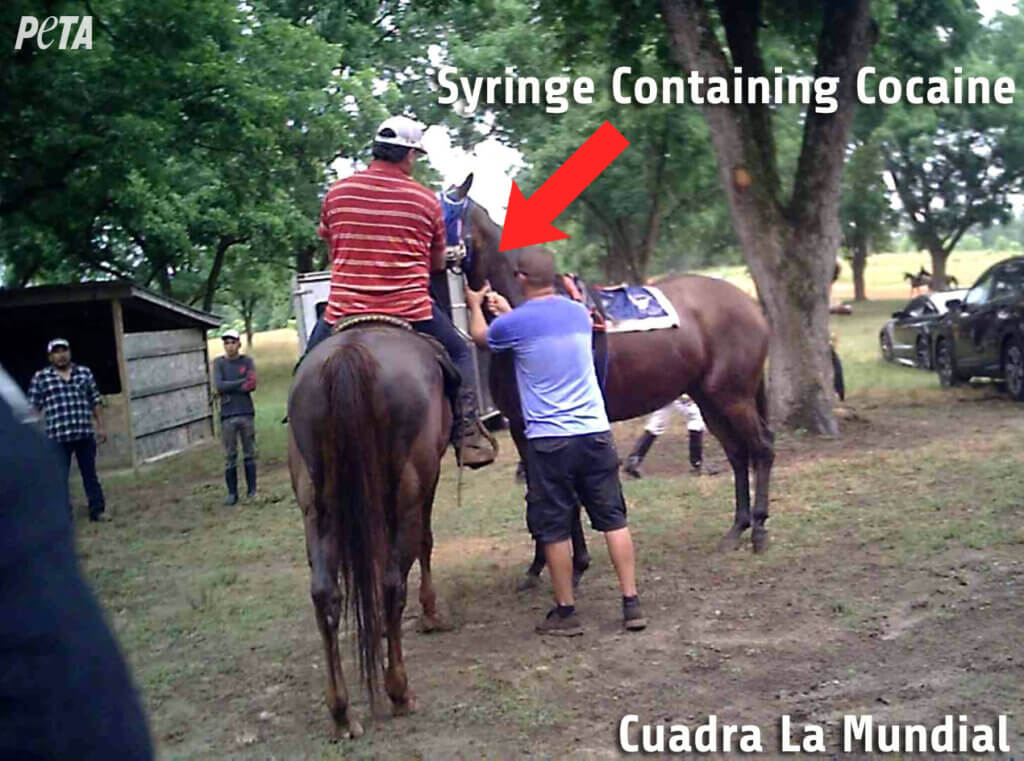 After watching this injection, another trainer jokingly offered his arm for a shot and then shimmied as if he had received a rush from the drug. They all know what's in these syringes.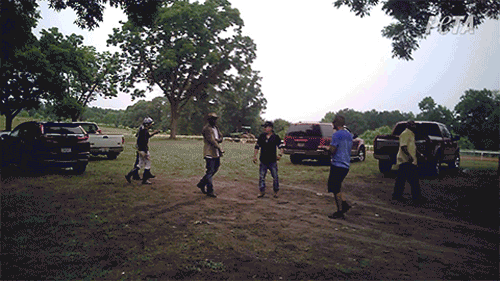 Horses Shocked With Electric Devices and Whipped Relentlessly
Jockeys whipped horses relentlessly—often over 20 times in a row—and other team members even struck the horses from behind as the starting gates opened. Jockeys and handlers also whipped and hit horses before races, during loading, and in the starting gates, as punishment and/or to control fractious behavior in the drugged-up horses.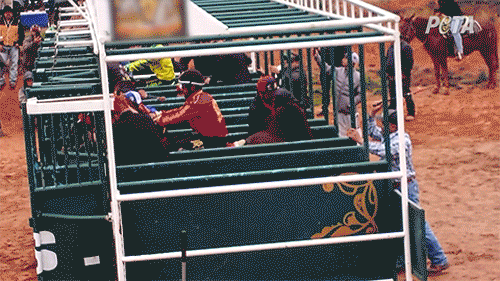 Jockeys did not limit themselves to whipping—investigators' close-up footage revealed electric shock devices (aka "batteries," "buzzers," "machines," "chicharras," or "máquinas") held in jockeys' hands or taped to their wrists. They use them to shock the horses in the neck during races, even the many jockeys who also race at mainstream tracks, where using or possessing these devices would result in a multiyear suspension.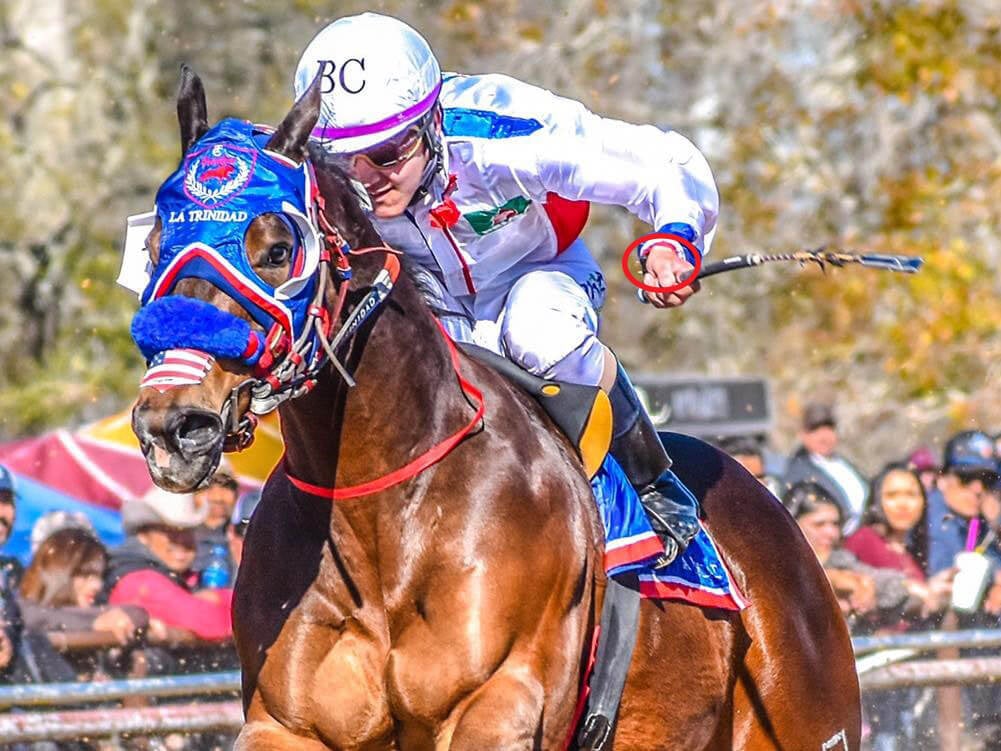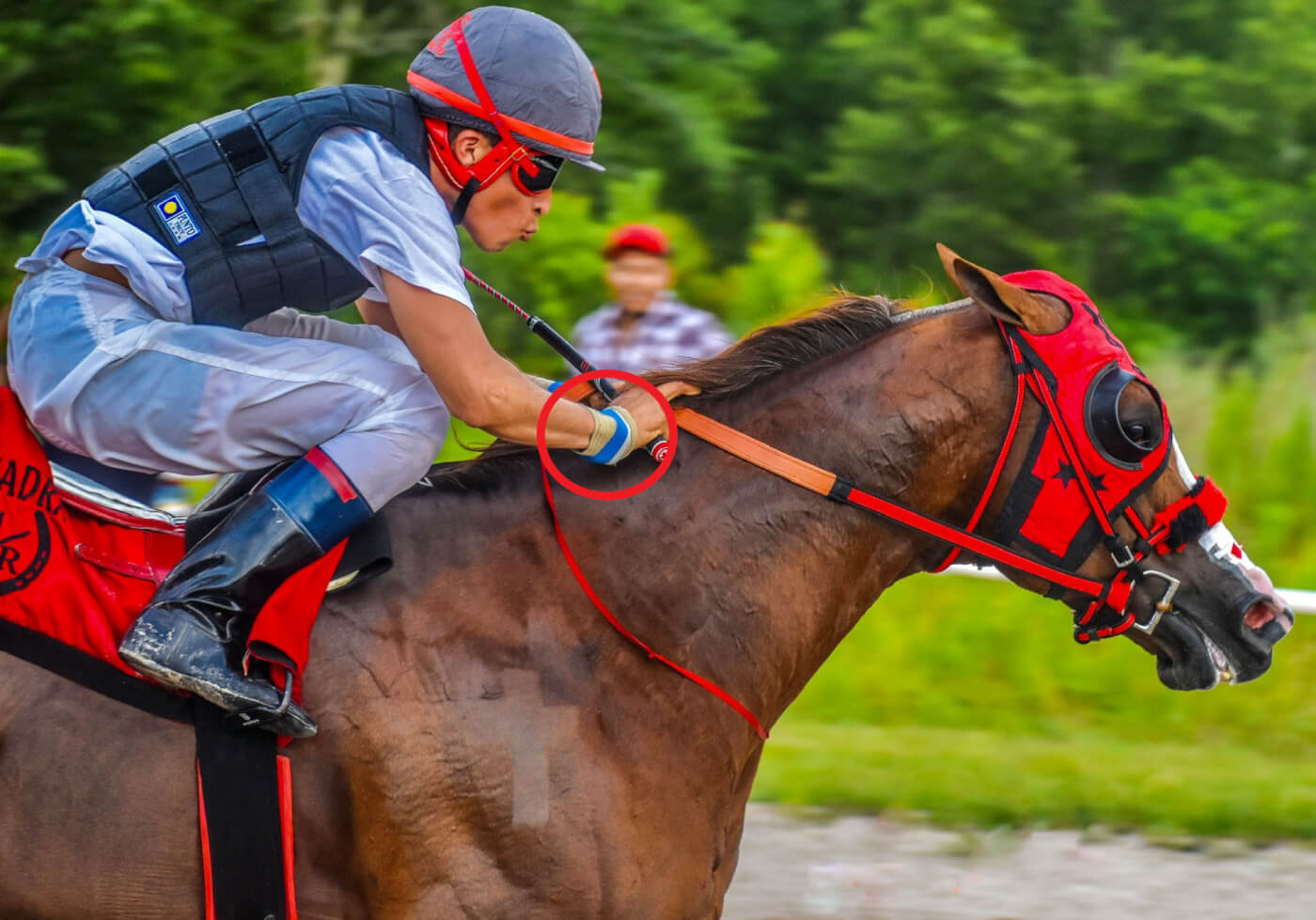 Jockeys Risking Their Own Lives and Limbs
When horses suffer catastrophic breakdowns in races, the jockeys are often badly injured in the falls.
In an incident at Rancho El Centenario in 2021, notorious jockey Roman Chapa (who had been banned from mainstream tracks after he was photographed holding a shocking device) rode a horse who fell and was fatally injured; Chapa later died from his own severe injuries.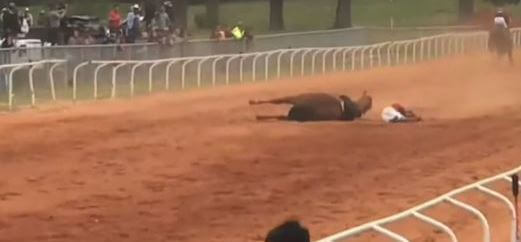 The track announcer and security guards tell attendees to stop filming after these gruesome breakdowns, but some videos make it online, and PETA investigators have scrupulously filmed in person and collected numerous other videos of injuries and deaths at Rancho El Centenario.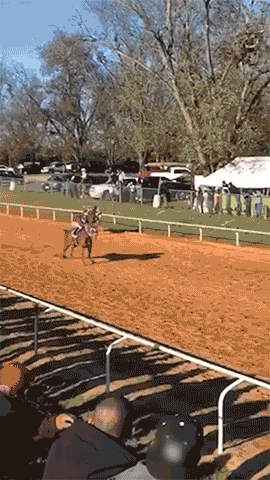 Osdany Leal sustained grave spinal injuries in this fall, and horse La Diosa was killed. Jockeys, who are complicit in overdriving the horses, choose to take these dangerous risks, but the horses don't have a choice.
PETA also identified underage jockeys who were only 13 and 14 when racing at these Georgia tracks.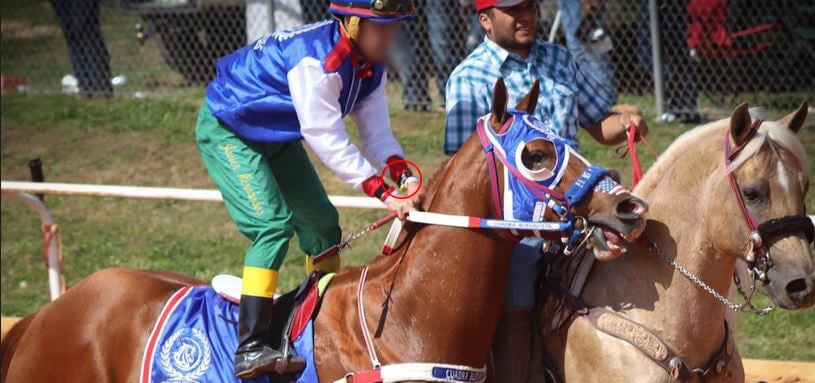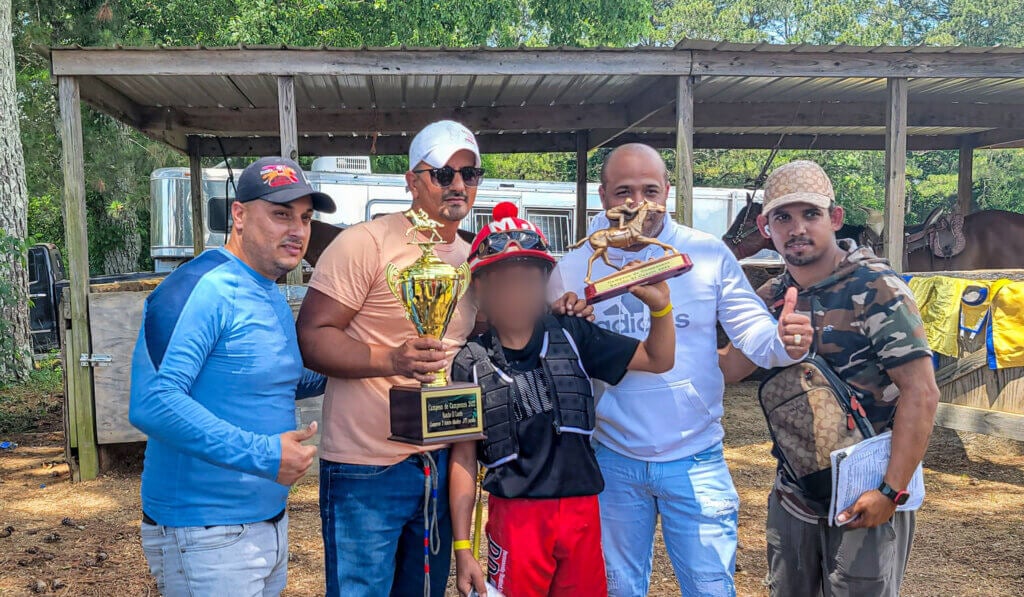 These crime-ridden underground racetracks are the dark underbelly of the wider Quarter Horse racing industry, which profits from breeding and selling these horses and then looks the other way.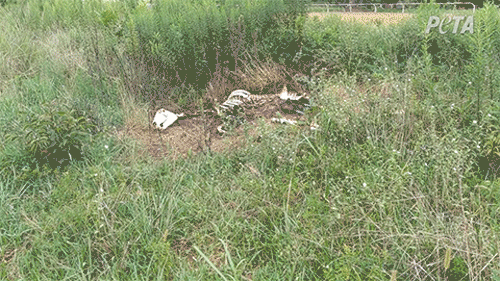 High-Stakes Gambling
Gambling featured heavily in the operation of these races. In addition to admission fees up to $100, people brazenly wagered what appeared to be hundreds of thousands of dollars. The track announcer stated the "advantages"—match racing's equivalent of odds. Horses had to win by at least a certain part of the body, for example, the nose, head, girth, backside, or tail (aka picos, cabeza, faja, blanco, and claro) for bettors to win. Multiple bookies circulated among the spectators, collecting wagers in person and via phone. Jockeys, trainers, and owners can often make more money in this lucrative black market racing than they can at mainstream Quarter Horse tracks.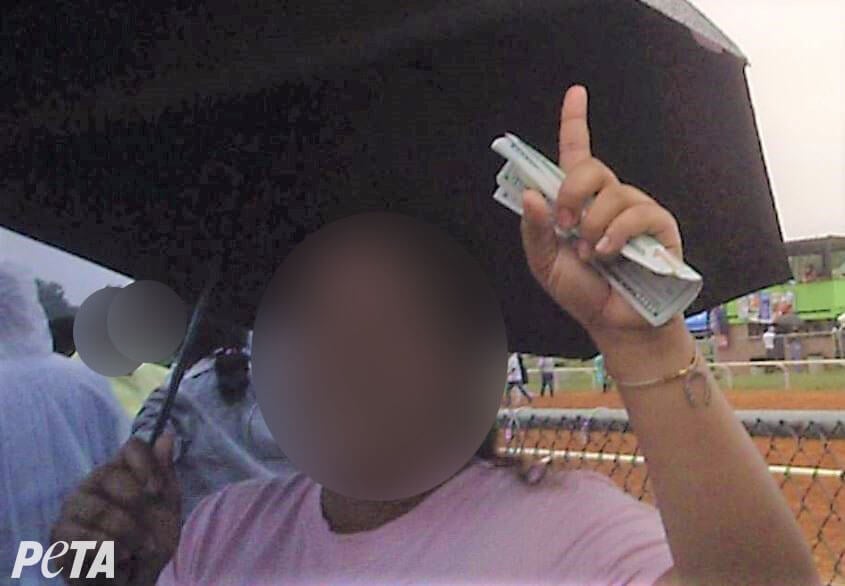 The doping, whipping, and electroshocking put horses at extreme risk for accidents and fatal injuries. Horses at these "bush tracks" break down frequently, which usually results in death.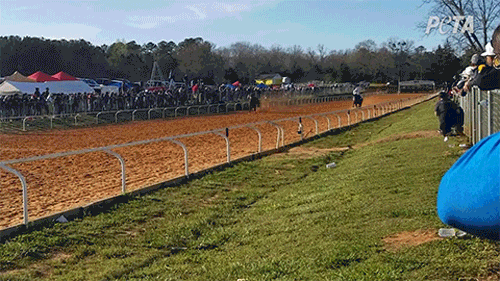 PETA filmed a race in March 2022 in which both participating horses died—one of the horses staggered on a badly broken, dangling leg, before eventually being shot in the head.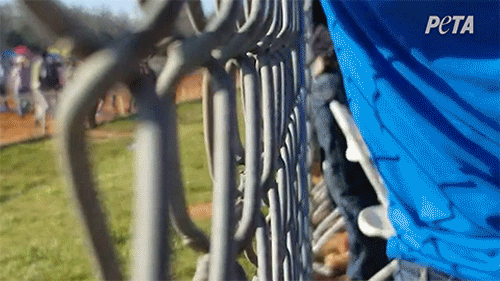 A worker then matter-of-factly dragged the dead horse down the track with a tractor.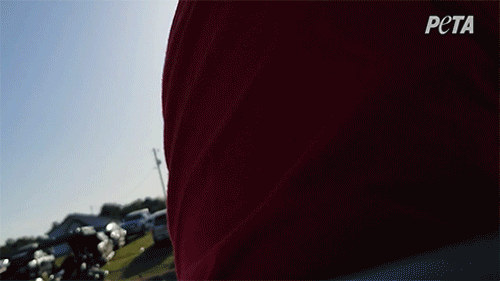 The "winning" horse died of a heart attack.
You Can Help Us Stop This!
PETA has asked local and state law enforcement to investigate and prosecute any illegal conduct so that no more horses will be injected with street drugs or electroshocked or die in gruesome breakdowns. Meanwhile, please join us in urging the American Quarter Horse Association (AQHA) to ban any jockeys, trainers, or owners who participate in unregulated black market races.