Barren, crowded pens littered with dead hermit crabs and detached claws. Thousands of survivors climbing over one another, desperately searching for water or a place to hide. Workers cracking open live crabs' shells, exposing their delicate bodies. Living crabs thrown out with the dead.
This is probably not the background you'd expect for the thousands of brightly colored shells—each housing a tiny crustacean—for sale at shops lining the boardwalk on your summer beach vacation. But after receiving a disturbing tip about Brelean Corporation, a self-proclaimed supplier of captive hermit crabs to PetSmart, Petco, and other retailers, PETA took a closer look. Within days of the release of this video, PetSmart stated that one of its suppliers had cut ties with Brelean.
Torn From Paradise, Dumped Into Filthy Pens
Every year, hundreds of thousands of Caribbean and Ecuadorian hermit crabs—who do not readily breed in captivity—are taken from tropical beaches, destined for boardwalk shops and pet store shelves. At Brelean, PETA's eyewitness found that wild-caught crabs arrived—and were left overnight—by the thousands in cramped burlap sacks.
Hermit crabs were then dumped into pens so crowded that many were buried beneath piles of other crabs, unable to eat or drink. Instead of sandy shorelines, hermit crabs were forced to live on barren plywood floors with nowhere to hide or burrow, which are both vital to hermit crabs' welfare.
Workers made no obvious attempt to measure humidity levels in the pens, even though hermit crabs struggle to breathe and can even suffocate when the air becomes too dry. When water was offered, thirsty crabs clamored for it, but these shore-dwellers were never given access to the salt water that is crucial to their well-being.
Live Crabs Thrown Away, Hundreds More Dead
Hermit crabs can live for decades in their natural habitat, but at Brelean, hundreds of dead crabs were found every day. Workers swept crabs into piles, claiming the survivors would eventually climb out from among the dead. However, live crabs were thrown into the trash along with the dead.
Management apparently did nothing to reduce the crabs' high mortality rate. The owner simply referred to the many dead crabs as a "waste of money".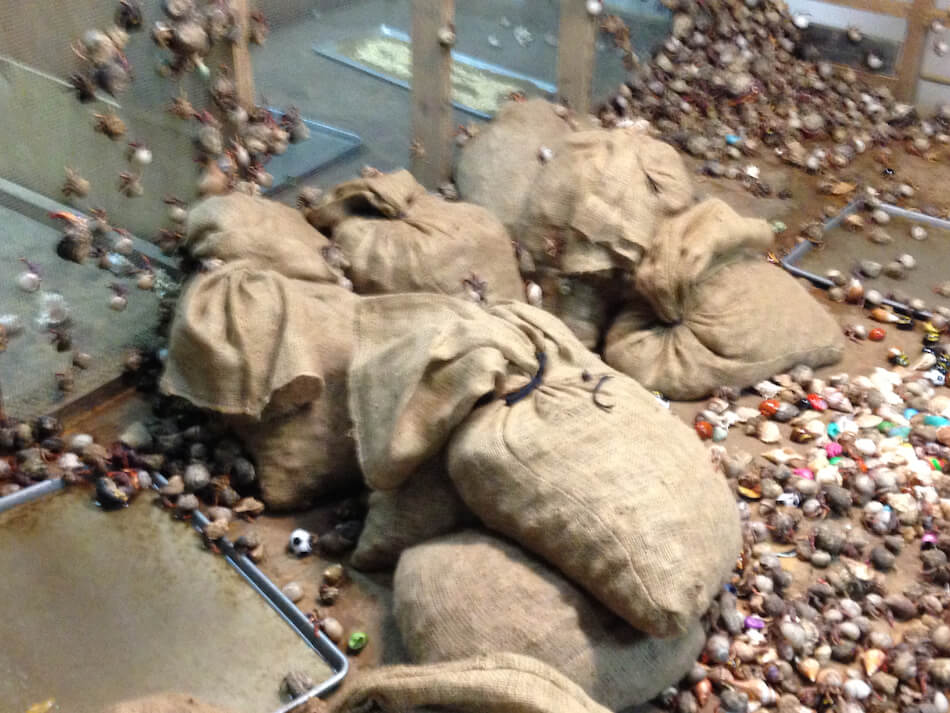 Shells Cracked, Leaving Crabs Defenseless and Vulnerable
When in danger, hermit crabs retreat into their shells, which protect their soft abdomens. Workers at Brelean, however, cracked open their shells with a manual lever press, leaving them vulnerable and defenseless. Many frantic crabs were then given only "fancy" shells coated with paint—which can be toxic—to crawl into before being shipped off to customers.
The eyewitness saw crabs who were missing parts of their abdomens. Live crabs were even found in a bucket of cracked shells destined for the trash.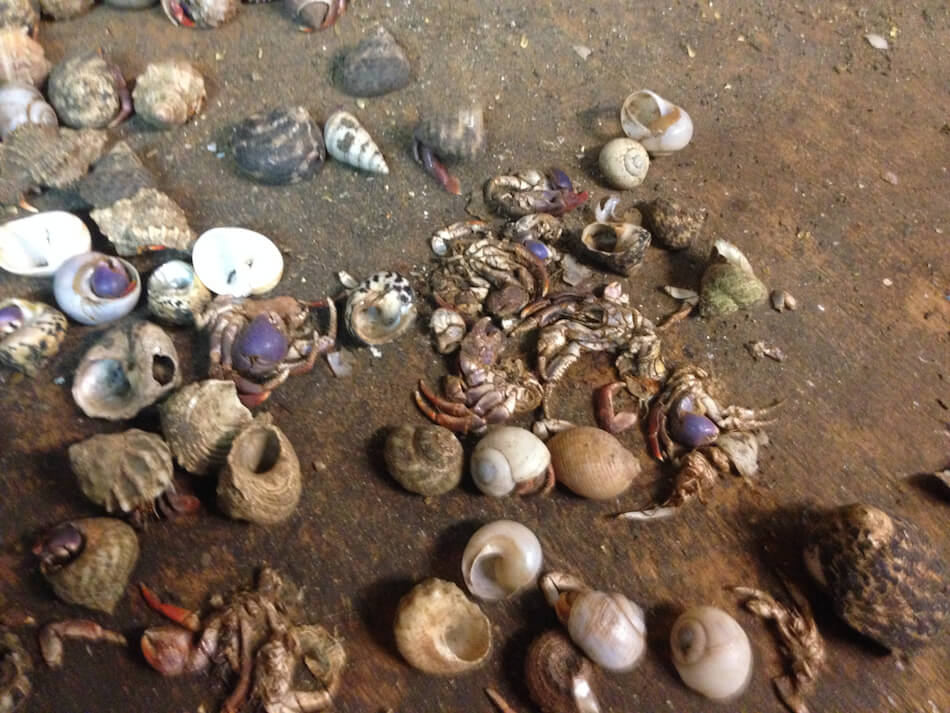 Crabs who survived the miserable stay at Brelean's warehouse were dumped by the hundreds into cloth sacks, which were then taped shut and shipped off to be sold to pet stores and souvenir shops.
All captive land hermit crabs sold as "trinkets" at boardwalk shops and pet stores have been wild-caught like those at Brelean. Imprisoned in tiny plastic boxes with nothing more than a layer of gravel and a plastic palm tree, these complex animals will never be afforded the opportunity to burrow in the warm sand of their natural habitats, socialize with members of their colony, or explore the coastline again. Instead of living for decades, as they can in the wild, captive hermit crabs often perish within a few short months.
You Can Help Hermit Crabs!
Brelean ships hermit crabs who have been torn from their coastal homes and kept in deplorable conditions to pet shops, beach souvenir shops, and other outlets. You can help stop the greedy, abusive pet trade by never buying hermit crabs—or any other animals.
Do these findings sound familiar? That's because they are. Brelean is the seventh animal dealer with ties to large pet store chains that PETA has exposed, following eyewitness investigations of Reptiles by Mack, Holmes Farm, U.S. Global Exotics, Sun Pet, and others.
Despite the filth, crowding, neglect, and abuse that PETA has exposed time and time again, PetSmart and Petco continue to sell animals, including hermit crabs, with little regard for their complex needs.
Please join us in urging PetSmart and Petco to keep hermit crabs where they belong—in the wild, not on store shelves—and let them know that you will shop elsewhere until they end all animal sales.