Colorado Couple Charged With Cruelty Again: Help End the Abuse!
Remember Ken and Lynn Kubic, who owned and operated Jurassic Pets, LLC, and Willards Rodent Factory, where PETA exposed the extreme suffering of rats, mice, reptiles, hedgehogs, and other animals in 2014?
They apparently ignored their convictions on related cruelty-to-animals charges and never stopped abusing and systemically neglecting countless animals.
An August 2016 search of the Kubics' home turned up 53 dead animals and more than 2,000 survivors, many of whom were deprived of water, forced to live amid their own waste, and/or in need of veterinary care.
PETA obtained video and other documentation from the officials' search.
After hearing from PETA about this overwhelming evidence of death, suffering, and neglect, Adams County, Colorado, officials charged the Kubics with a total of 72 counts of felony cruelty to animals at their home. Shockingly, officials dismissed all 36 felony charges against Ken Kubic in June 2018. He was allowed to plead guilty to misdemeanor criminal mischief and continue to own and have contact with animals!
Like her husband, Lynn Kubic has caused countless animals to suffer and die over the years. Help us end this cruelty at last.
The Kubics' Long History of Cruelty and (Losing) Court Battles
In 2014, PETA witnesses worked at two of the Kubics' businesses—their rodent-breeding barn and their Thornton, Colorado, pet store.
Based on PETA's evidence, the Thornton Police Department executed a search warrant at Jurassic Pets on December 10, 2014, that allowed them to rescue some of the mammals, reptiles, and amphibians there. The Kubics and their son, Brian, were charged with a total of 97 counts of cruelty to animals. By August 31, 2016, all three had been convicted of cruelty to animals and ordered not to work with animals.
For years, the Kubics battled the Colorado Department of Agriculture in court over the necessity of licensing their so-called "rodent factory." In April 2016, the Colorado Court of Appeals affirmed a lower court's order that barred the Kubics from operating that business without a license. But in July 2016, former Jurassic Pets employees told state officials that the Kubics had moved animals from their home to a neighbor's house in order to appear to be complying with the court's order.
Descending Into the Kubics' "Unbelievable" Basement
On August 31, 2016, state and local officials executed a warrant to see just what the Kubics were up to.
Inspectors discovered more than 500 animals—including snakes and other reptiles, hedgehogs, sugar gliders and more—in the Kubics' basement, which reeked of urine and animal waste and which one seasoned inspector called "unbelievable."
Officials found five dead hedgehogs and snakes among row after row of shelving units and stacks of tubs. One snake appeared to have been "dead for quite some time," judging by the odor. A state agent wrote, "Almost all of the snakes did not have water."
Eighteen snakes and a "really emaciated" bearded dragon needed immediate veterinary care for various illnesses and injuries, including respiratory infections, oral and ocular abscesses, dehydration, and neurological issues.
An Adams County Sheriff's Office (ACSO) deputy noted the "sad life" of a lizard named Puppy, the Kubics' prized tegu, whose right arm the deputy noted was "all messed up" with what a veterinarian called "a large lesion."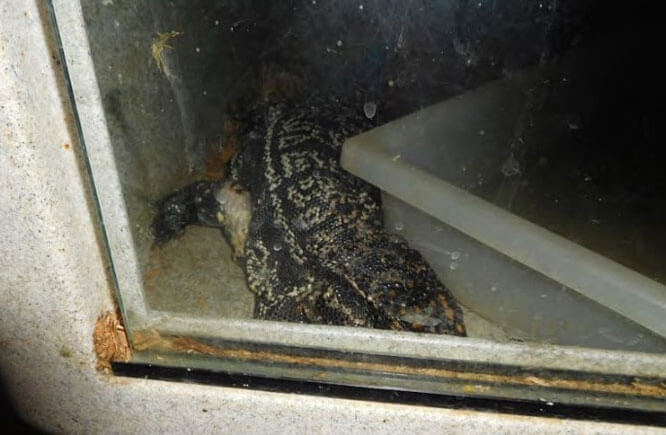 "You Don't Want a Count on the Maggots, Do You?"
That was one state veterinarian's question as he and other officials tried to count scores of dead, rotting mice and rats in the Kubics' rodent factory—one of several metal sheds on their property.
Two flooded bins held mice who had evidently died of drowning, while a third bin of live mice was rapidly filling with water.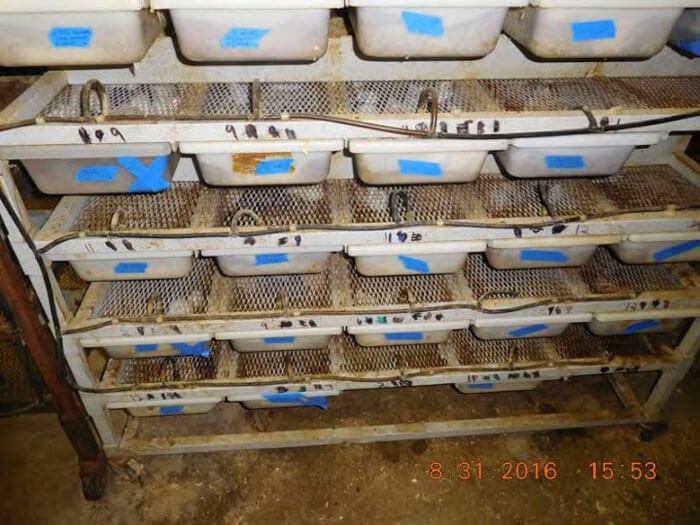 Nearly 1,500 mice and rats who had survived being in the Kubics' possession (to that day) were in small bins and cattle troughs. Hundreds of mice were kept in severely crowded bins which were so "absolutely filthy" that one inspector remarked, "I can't even see the bedding anymore."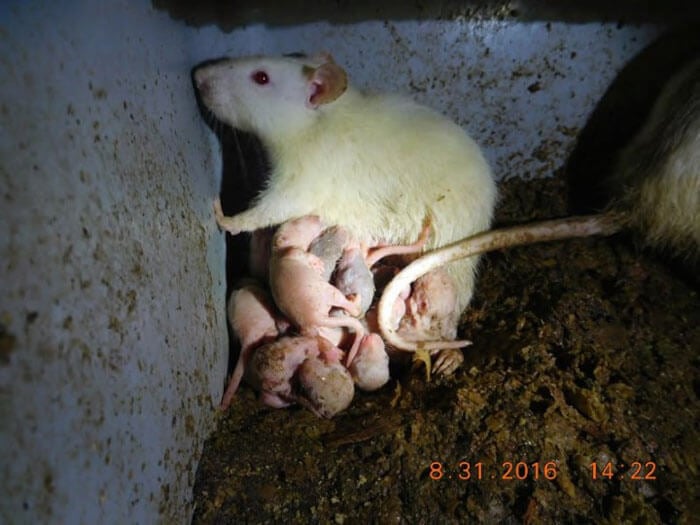 What remained of bedding for these animals was "absolutely saturated with" and "packed full of feces," officials reported. "The smell of ammonia was strong," noted one agent.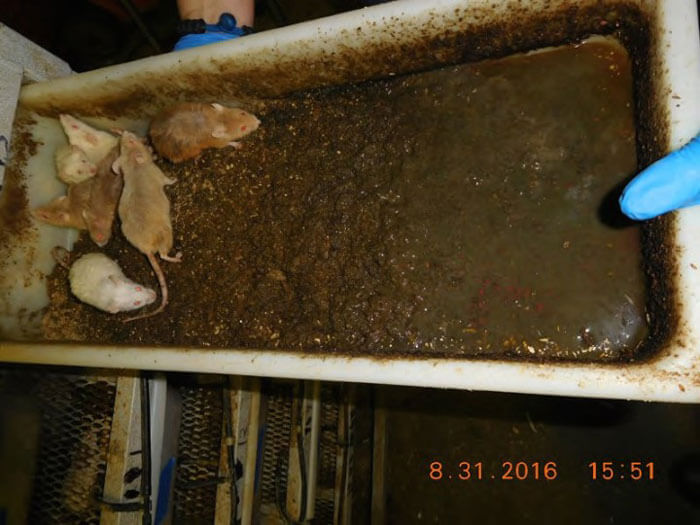 Sadly, officials left almost 2,000 live animals in desperate need of help with the Kubics that day.
Their fate is unknown.
Help Put an End to the Kubic Family's Cruelty!
After PETA obtained the evidence and followed up with officials, the ACSO and 17th Judicial District Attorney charged the Kubics for some of the neglect and suffering officials found that day.
Animals are feeling individuals with many unique needs. Someone who can't understand that has no business interacting with them.
Please urge the District Attorney's Office to prosecute Lynn Kubic to the full extent of the law and, upon any conviction, ask the court to bar her permanently from all contact with animals and send her to prison. As the Kubics have shown time and time again, nothing short of that will protect animals from them.