Update: Dade City's Wild Things Closed and Ordered to Pay PETA Nearly $400,000 in Fees After PETA Court Victory
PETA obtained a default judgment and permanent injunction in our Endangered Species Act (ESA) lawsuit against Dade City's Wild Things (DCWT), which is now permanently banned from owning or possessing endangered tigers or allowing anyone else to keep them on its property. The court also entered a judgment against DCWT requiring that it pay PETA $399,118.10 in attorneys' fees and costs.
The court's judgment confirms that prematurely separating tiger cubs from their mothers, forcing them to swim with paying members of the public, and failing to provide them with adequate housing and care are violations of the ESA's prohibition on harming or harassing protected wildlife, as PETA contended. Per the injunction, PETA arranged for the transfer of the remaining six tigers in DCWT's possession to The Wild Animal Sanctuary in Colorado, which is accredited by the Global Federation of Animal Sanctuaries.
At a hearing to ensure that the tigers could be safely transferred despite the COVID-19 pandemic, DCWT represented through counsel that it has surrendered its federal exhibitor's license and that it is closed for good. This finally puts an end to decades of suffering and abuse and spares countless more animals lives of torment, exploitation, and neglect.
All told, PETA relocated 27 of the tigers formerly imprisoned by DCWT, including Luna, whom it had acquired from Joe Exotic (aka the notorious "Tiger King") in May 2015 when she was just a week old and then used in its "tiger cub encounter" and "swim with a tiger" programs. DCWT acquired Nikita from him in December 2008 when she was just 2 months old. She was used as a breeding machine, and her cubs were taken from her shortly after birth.
Thank you to everyone who took action and urged DCWT to end its "tiger cub encounter" program.
The Stearnses' legal troubles aren't over. Following a PETA complaint, the Florida Department of Agriculture and Consumer Services filed its own lawsuit, alleging that DCWT operators Kathy, Kenny, and Randy Stearns siphoned tens of thousands of dollars from their nonprofit to cover their personal expenses, and Kathy Stearns pleaded guilty to two felony charges related to this scheme. After a ruling from the U.S. Department of Agriculture, which sued the facility after years of federal animal welfare violations, DCWT was ordered to pay a $16,000 fine and its exhibitor's license was suspended for 90 days.
*****
In 2015 and 2016, a PETA eyewitness worked and volunteered at Dade City's Wild Things (DCWT), a roadside zoo in Dade City, Florida, and documented abusive handling, stressed and sickly animals, and a callous disregard for animals' welfare. DCWT is a tiger cub-breeding mill. It removes the helpless infants from their mothers within hours or days of birth so that they can be hand-reared and get "used to" public handling. DCWT shamelessly—and apparently fraudulently—misleads the public about its exploitative operation.
Based in part on the eyewitness's findings, PETA has filed a lawsuit against DCWT claiming that its ongoing practices of prematurely separating endangered tiger cubs from their mothers, forcing them to participate in public encounters (including "swim with a tiger" sessions), and using abusive training methods violate the Endangered Species Act (ESA). The ESA prohibits unlawful "takes," which include harming or harassing an animal.
This roadside zoo is owned and operated by the Stearns family, including mother and son, Kathy and Randy. Visitors to DCWT can pay for hands-on "encounters" with animals, including young primates and exotic cats. For $200, a visitor could "swim with a tiger"—DCWT's signature encounter—during which a tiger cub was forced to swim with groups of people in a chlorinated pool up to three times a day. The eyewitness saw one cub forced to swim with 17 people in a single day.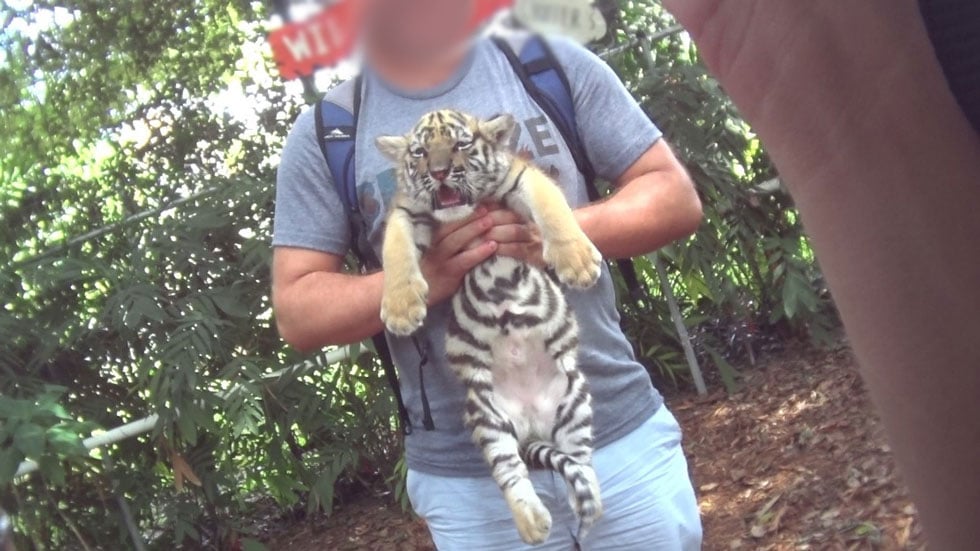 Animals at DCWT are treated like disposable equipment. Cubs were roughly handled and repeatedly forced into public contact, one even when she was struggling to stand. Sick and injured animals were routinely denied veterinary care.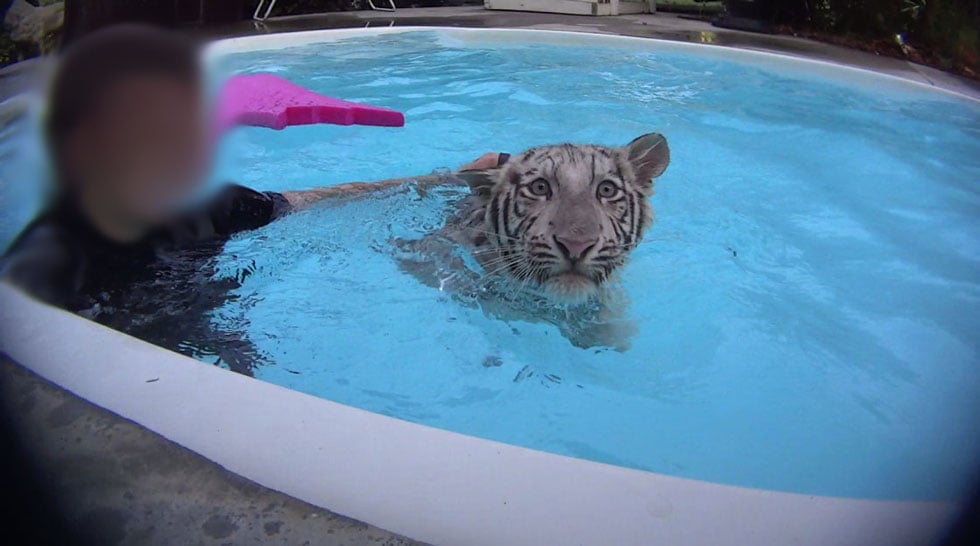 A tiger cub named Ariel, who suffered from an apparent spinal deformity or a neurological disease and couldn't hold her head straight, was repeatedly made to swim, including once for more than a 10-minute stretch, during which she panicked and was unable to keep her head above water.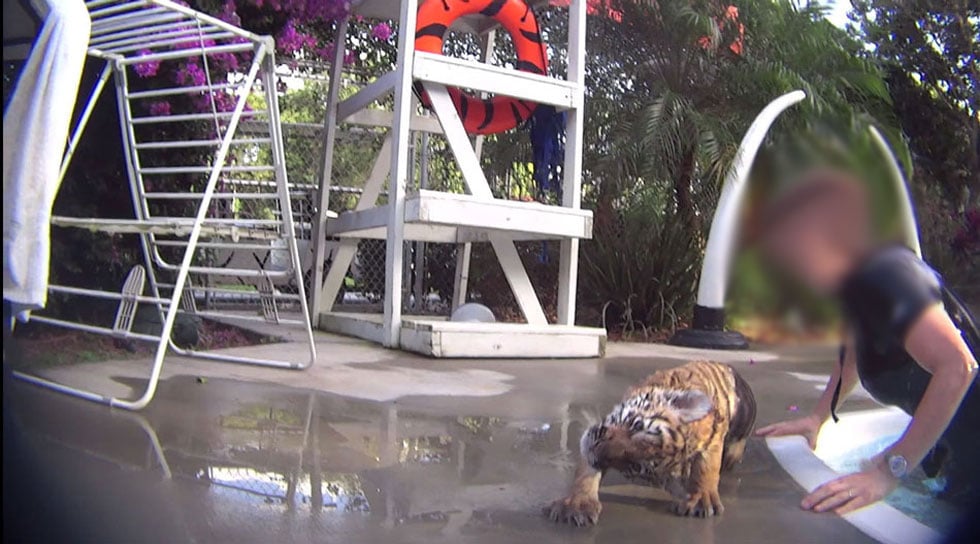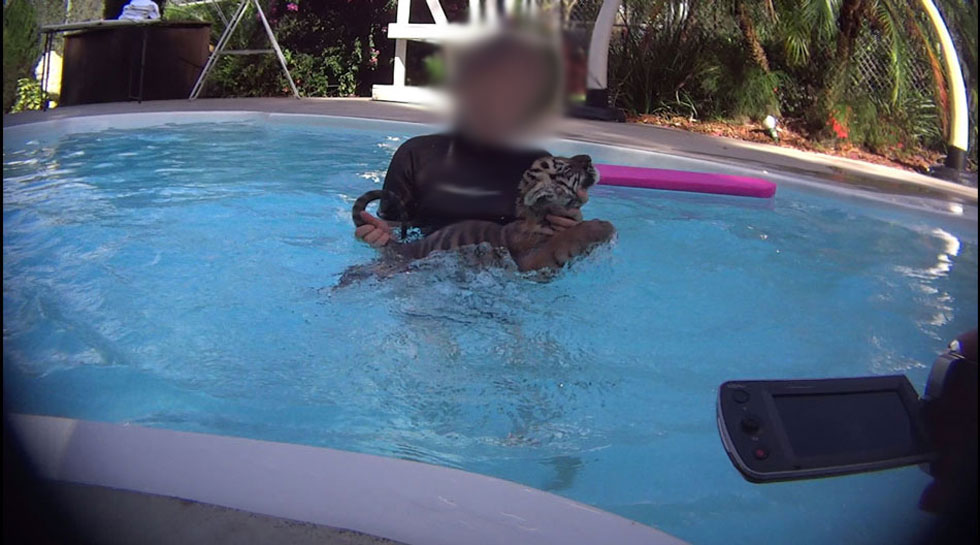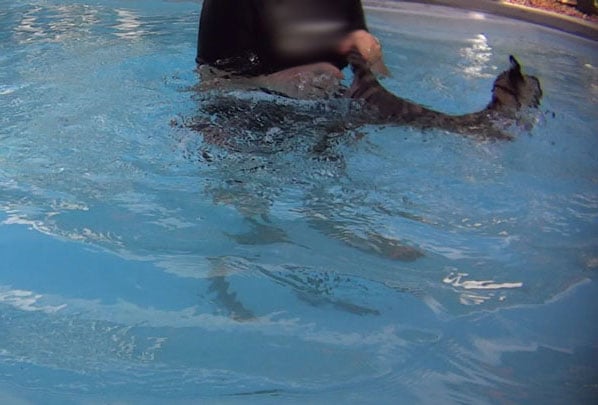 DCWT later released a misleading promotional video narrated by Kathy Stearns asking for donations to fund Ariel's continued care and eye surgery by splicing footage of Ariel together with footage of a healthy tiger cub, claiming that Ariel was able to swim now thanks to "acupuncture and water therapy." Tiger experts say that the stripe patterns on the cubs in the before and after clips are different and that, given the severity of Ariel's neurological symptoms, it is medically impossible for her to be the "cured" swimming tiger. They say that the video actually shows two different cubs.

The tiger cubs were often forced into encounters with customers multiple times per day. During one encounter, a tiger cub named Asia struggled to stay upright and cried out for over 10 minutes. At one point, she fell off a bench and was yanked up by the neck .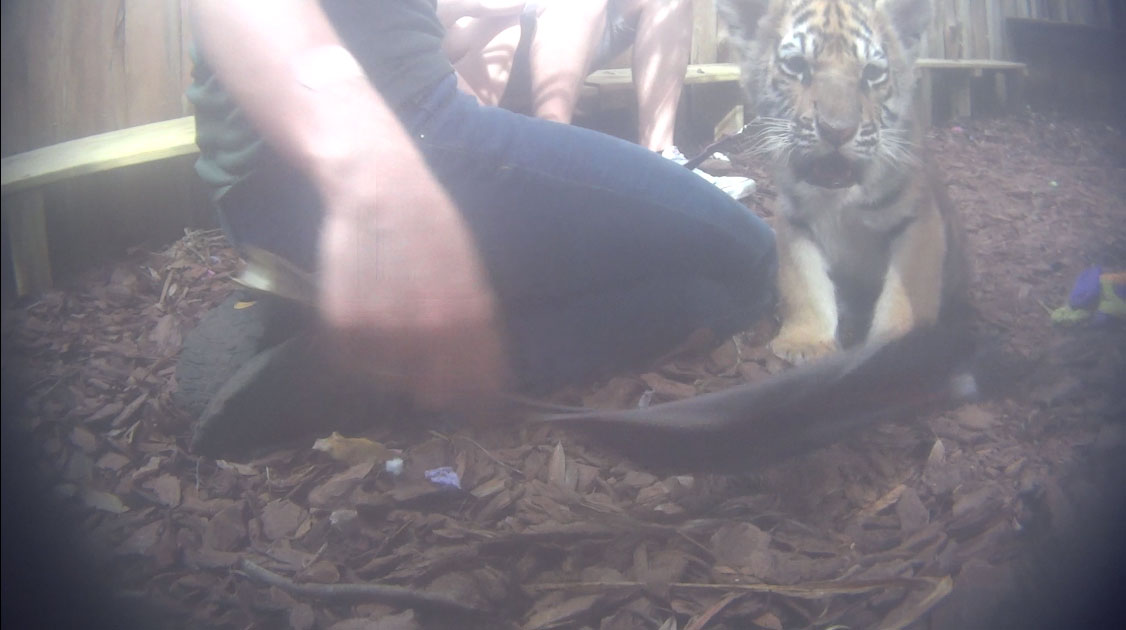 During another encounter, a worker dragged a cub named Luna by the neck, even though she was howling and crying, and while training, the worker repeatedly struck her and pushed her into a pool.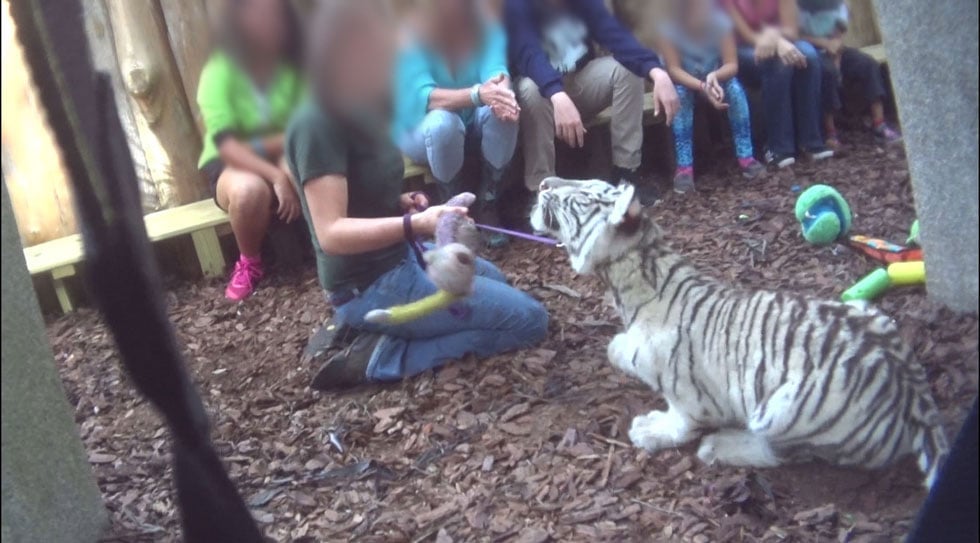 Babies Torn Away From Their Mothers
Some cubs were taken from their mother just hours after being born. A dead newborn was left on the ground as the surviving cubs were whisked away.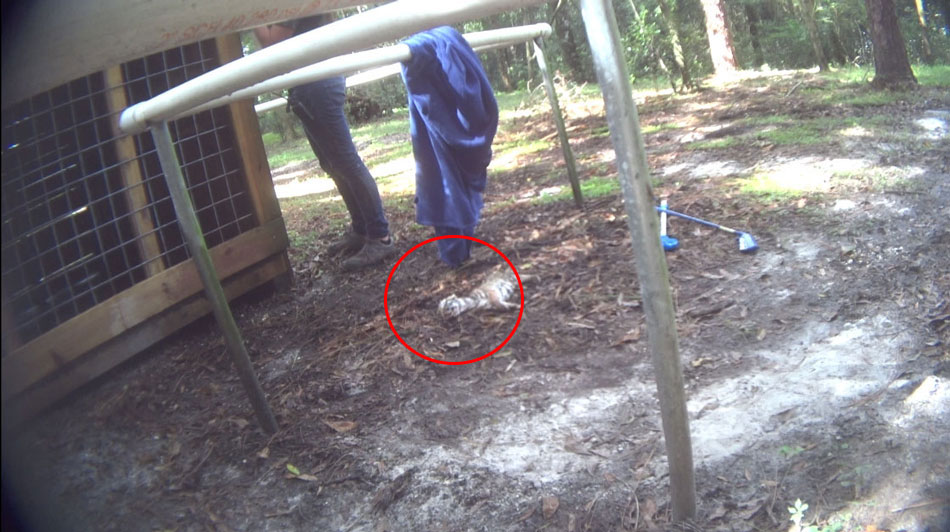 Tiger cubs were transferred into and out of the facility. Nine-week-old Noah and 3-week-old Zeek, were shipped to a North Carolina roadside zoo that also offers cub handling. After she grew too large for "encounters," Bindi was sold to a private party and was later found wandering loose in Texas. Luna came from notorious roadside zoo The Greater Wynnewood Exotic Animal Park when she was only 1 week old. She was less than a year old when she was hit and shoved into the pool by her trainer.
Tiger Cubs Left to Suffer
Tigers too old to be used in "encounters" were kept in cramped, barren cages, often with no enrichment. Cages were mainly only spot cleaned using undiluted bleach. Animals sometimes came into contact with the caustic chemical, which can cause burns, eye irritation, and even ulceration or perforation if ingested.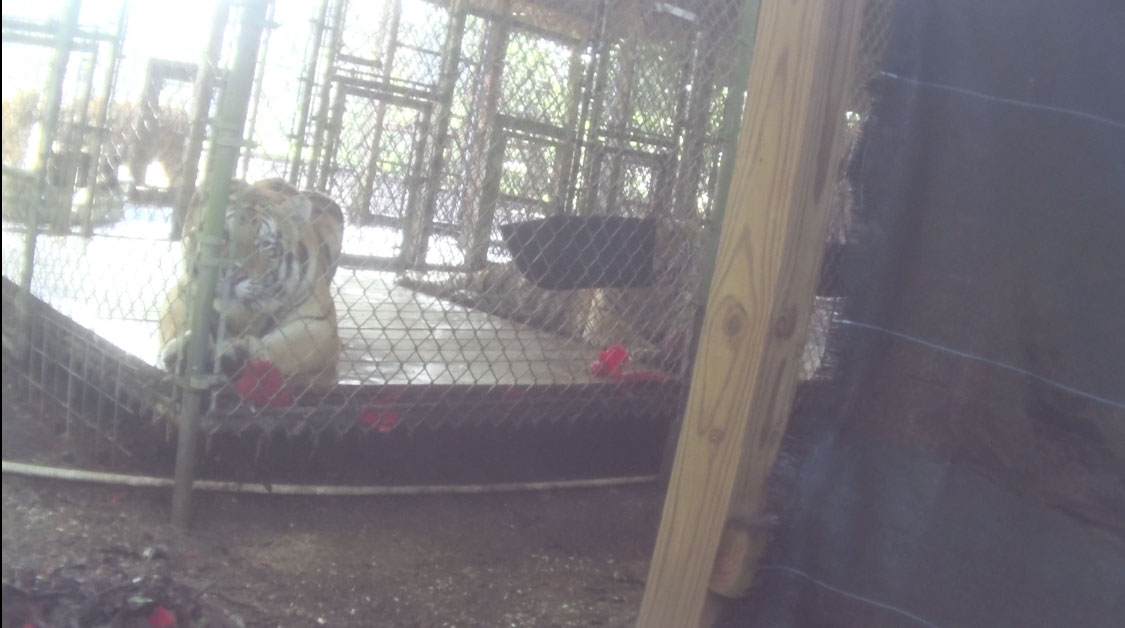 Animals Mistreated, Left for Dead
PETA's eyewitness documented the suffering of many other animals, including some who died. A black leopard named Cleo never received licensed veterinary care despite suffering from eye inflammation and nasal discharge for months. A whistleblower reported to PETA that she had later died after a bloody wound on her tail became infected and went untreated for more than a month.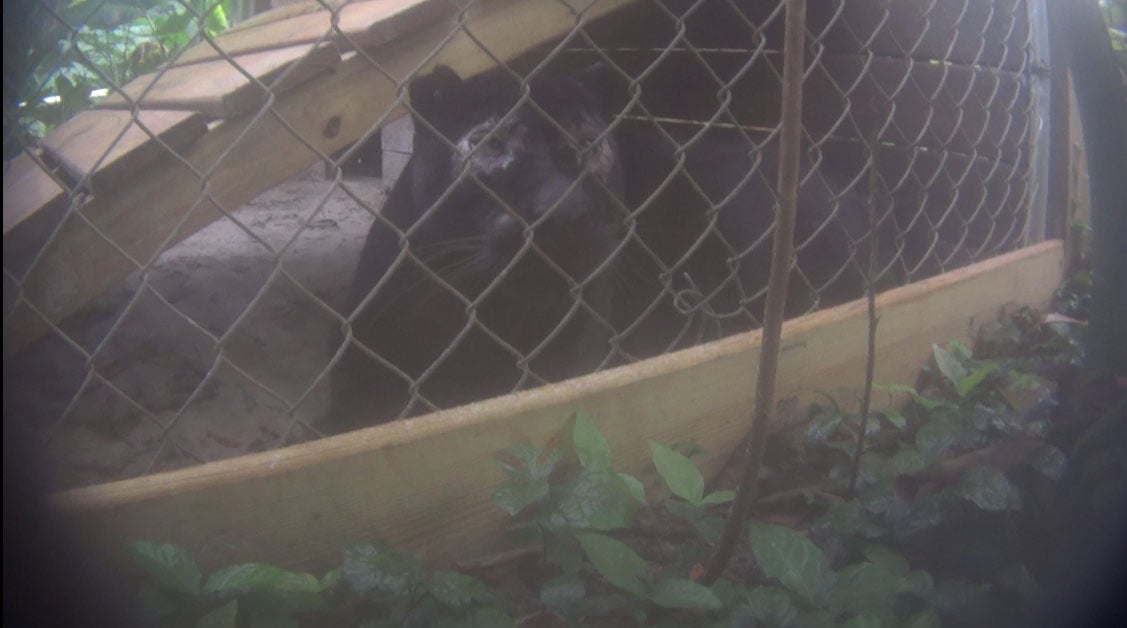 Primates displayed aggression or self-harm, including a monkey who repeatedly bit his own limbs. This is a sign of severe mental distress.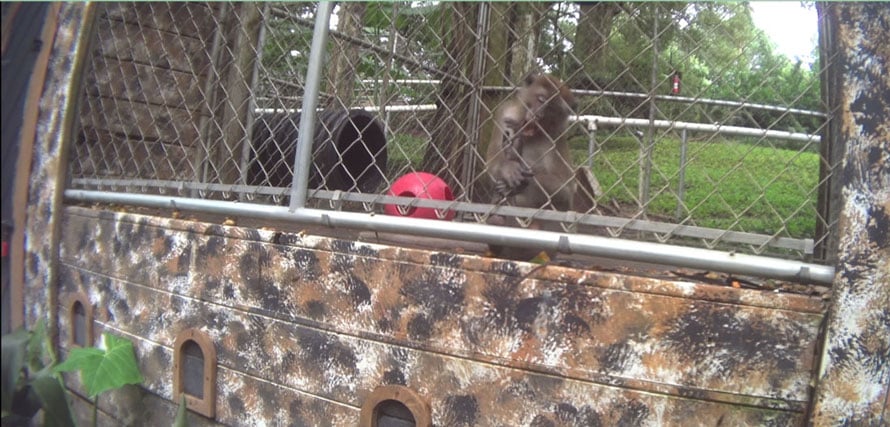 A sick parrot languished in a carrier for a month and eventually died. Management was aware that the bird was sick but had nevertheless refused to allow either veterinary care or euthanasia. Other ailing birds also died after being denied veterinary care.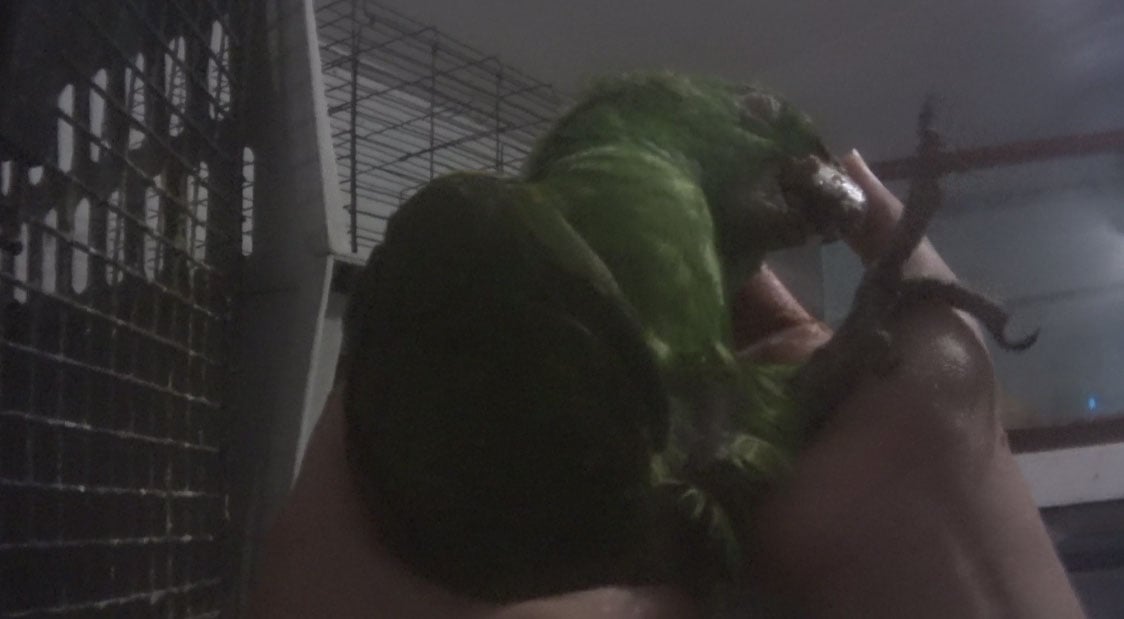 An opossum named Stanley with a raw, oozing tail injury died after spending two weeks in a dark, hot shipping container that often had no bedding to lie on, not even a towel.
During peak mating season, fallow deer bucks were housed together—violating basic animal husbandry standards—and a fight broke out. Randy Stearns responded by firing his gun and repeatedly struck one deer with a rake.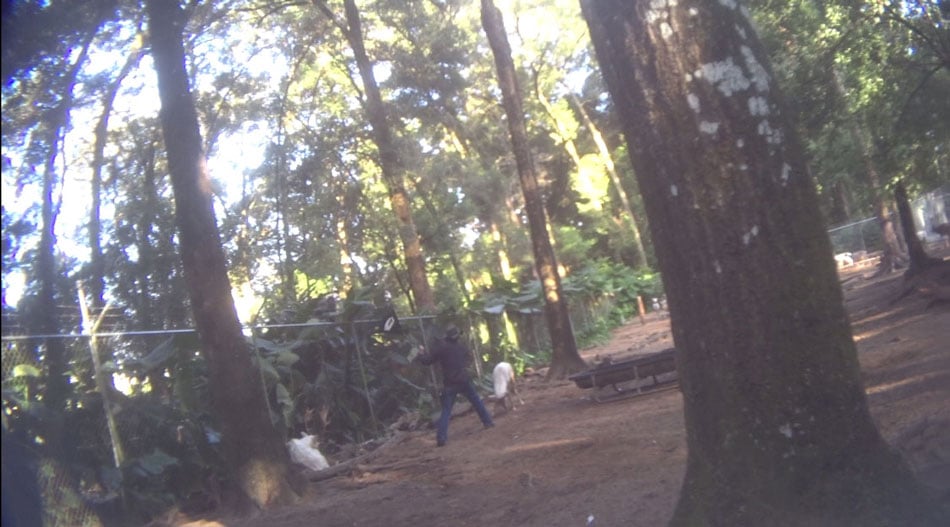 Small animals, like rodents, who were caught in cage traps were drowned in a bucket.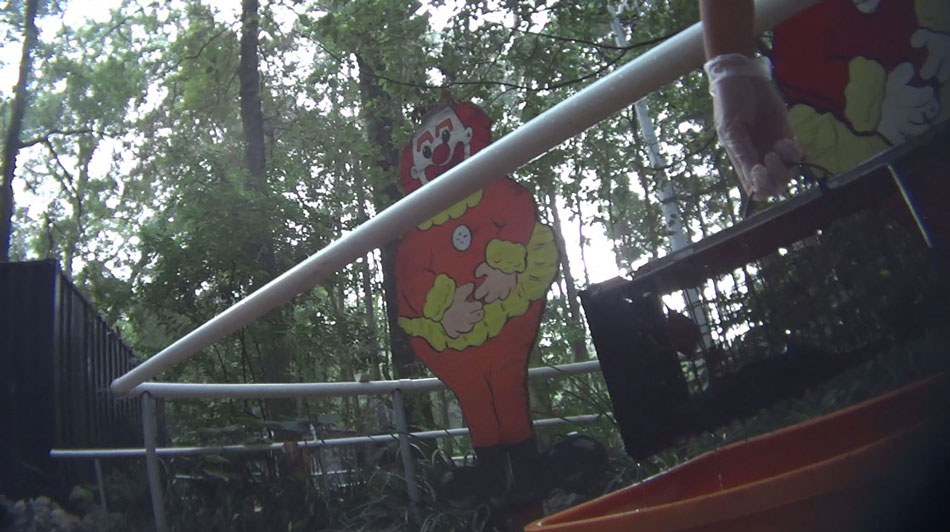 PETA's exposé comes on the heels of a lawsuit filed against DCWT by the U.S. Department of Agriculture for its numerous violations of the federal Animal Welfare Act, including improper handling of tiger cubs.